Artificial plants are specially UV-protected for outdoor spaces to withstand uncontrolled natural factors. These plants can help decorate the garden, backyard, patios, entrances, exits, and so on. By placing artificial outdoor plants in the garden, the surrounding environment will stay fresh and attractive over the years. Private gardens are related to people's lives. They carry many activities in family life, such as dining, walking, dining, playing, and outdoor gatherings. A garden is a place that can continue to bring joy to people. The artificial plant landscape design for a private garden is wonderful for many people.
— Can artificial plants be placed in soil?
Yes, of course! Since the artificial plants aren't alive, they aren't picky! That's the great advantage of faux plants. Natural plants need the right amount of sunlight and water; they don't like getting too hot or too cold. Some natural plants can not last long, and people need to pull weeds every week or two. Users can choose faux plants in containers with stones or pebbles. And people can plant artificial greenery in the soil and the ground.
— Do artificial plants last outside?
Most artificial plants can last a long time outdoors. High-quality artificial plants are manufactured with durable and fade-proof raw materials. They make artificial plants perfect for a garden! Sun damage can reduce the artificial plant's longevity, causing cracking or fading. So, if users pay attention to longevity and durability, artificial plants with UV protection will be a great choice.
Some manufacturers spray UV protectants over their products after they've been produced. But, they can not last long. Better manufacturers use UV protectants during the manufacturing process. Thus, choosing plants with UV protection built into their material is better. They can provide long-term protection from harsh UV rays and ensure the garden stays green for a long time. For artificial plants with no UV protection, people need to invest in a spray-on UV protectant. Then, it can last longer than it would have. Just remember to add this at the last step every time people clean their plants.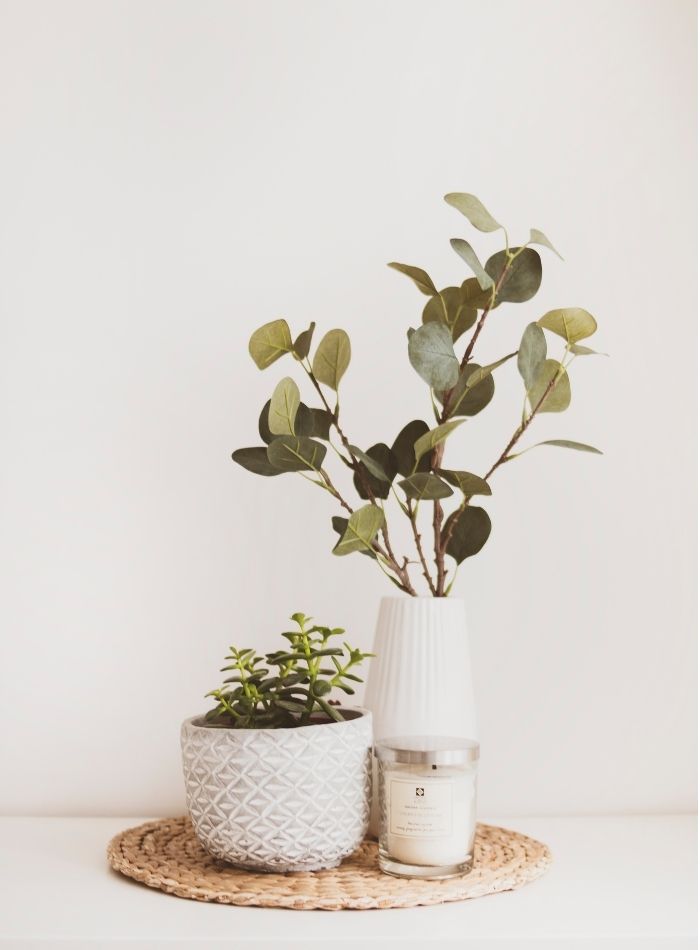 — Benefits of artificial outdoor plants for the garden:
1. They need low maintenance.
Unlike natural plants, artificial ones for gardens do not need daily watering, pruning, fertilization, or pesticides. And they don't require sufficient sunlight or proper temperature for growth. They will look good no matter if there is a flood or a drought.
And artificial plant maintenance is one less thing busy people have to put on their to-do lists. The faux plants can save money, time, and energy, which is important for modern busy livers. Artificial hedging will not wilt, wither or rot, which makes them an excellent choice for gardens.
People will not need to think about watering too little or too much. These artificial plants will look fresh and require minimum effort. It makes them a perfect solution for summer houses or if people travel often and are away from home for longer.
2. They are realistic.
Some people worry that artificial plants do not look real, so they often hesitate to choose artificial outdoor plants. In fact, users don't have to worry about this. Manufacturers can make artificial plants look natural and lifelike with advanced technology and upgraded raw materials. Most time, it is hard to distinguish them from natural plants.
3. They are flexible.
The flexibility of installation is one of the main benefits of artificial plants. There are no restrictions on the placement of faux plants in the garden. These plants can quickly improve the beauty of the outside space. And the value of faux greenery lies in its wide variety. Most real plants only can live in a few places or in limited seasons. In comparison, by using artificial outdoor plants for the garden, people can freely choose any artificial greenery they want to decorate the area, regardless of season or availability.
4. The aesthetics of artificial plants.
Great manufacturing technology, 100% raw materials, and fashionable designs have created realistic artificial plants. People often cannot tell whether they are natural plants or faux ones. Every leaf of the plant is naturally imitated. They are charming and attractive, lift the spirit and illuminate gardens.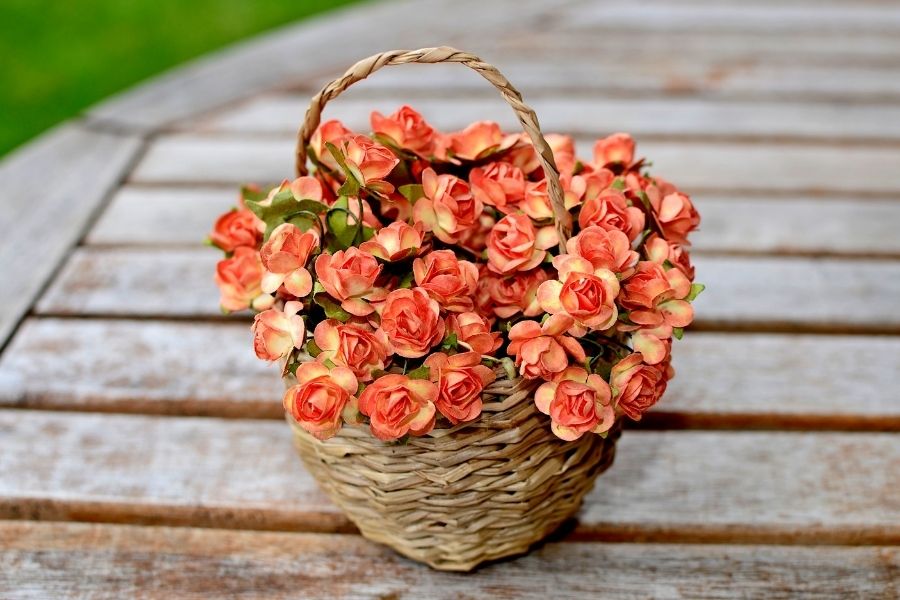 5. Cost-effective
Plants are a pleasant and special way to improve the garden landscape. But maintaining live plants needs more money and time. Artificial plants are the ideal choice for people who don't want to invest a lot of money in plant maintenance. Users can achieve the same aesthetic with artificial plants at little cost. Moreover, they are durable enough and do not need frequent replacement.
— Garden design styles:
1. Traditional landscape
As we know, in 17th century France and strolling down the garden paths at Versailles, gardens were filled with highly manicured plants, statues, and elaborate fountains. For people looking for the same traditional landscape design ideas, artificial greenery will help to create a conventional romantic design. This garden decoration consists of boxwood shrubs resembling an ancient Celtic knot. The maintenance and creation of this kind of natural boxwood shrub cost much time and money. Thus, faux boxwood can quickly present the traditional look. Artificial greenery has a realistic appearance and vivid colors. They can help express traditional design concepts.
2. Japanese landscape
The Japanese garden decoration style is famous for its unique beauty. Maple trees are the most prominent part of a vivid Japanese garden. These trees have various shapes, sizes, and foliage colors. Other plants include flowering quince, cherry ornamental trees, peonies, anemones, rhododendrons, miniature evergreens, and so on. If people want to build a Japanese-style one, there will be different artificial vertical garden products and suitable artificial outdoor plants to create a Japanese-style landscape.
3. Tropical landscape
Tropical-style gardens bring the feeling of vacation. Some tropical landscape styles are related to colorful flowers and plants. Various plants and flowers are suitable for creating a tropical landscaping design. Palm trees can be an idea to start with. And people can create the illusion of tropical planting with colorful flowers like dahlias, portulacas, and petunias. With artificial garden plants, people can enjoy the happiness of summer at any time. And they do not need to worry about the negative impact of bad weather. Faux plants can keep their great shape and color over the year. Using artificial plant walls can also create a real jungle look.
— Ideas for an outdoor artificial garden:
1. Create a taste of warmer climates
Most of the time, the local climate can not allow people to enjoy a tropical garden. Installing an artificial tropical garden is the best solution. Natural tropical plants like palm trees and ferns may not like dry, cold weather. But their artificial counterparts can work well in those conditions.
Most people love the look of tropical gardens. Natural tropical plants are hard to maintain in certain climates. But an artificial tropical garden can exist anywhere! People can use faux ferns, palm trees, and cycads to create their own tropical outdoor artificial garden. These plants can give the outdoor space a bright, summer-Esque feeling over the year.
2. Classic Elegance
For people who love classic looks, manicured artificial topiary plants will be the ideal choice. They can stay the classic appearance for years. Users won't need to worry about pruning them to keep their perfect shape. Moreover, there are various ways to style the topiary plants.
Topiary plants with densely packed leaves have long been a symbol of elegance in the gardening landscape. Natural versions need to take a long time to grow dense enough to shape. And, the maintenance is hard to ensure they don't lose shape.
3. Privacy As A Priority
Hedges can not only green up the outdoor garden but also add some privacy. Natural plants take much time and expertise to care for. However, faux greenery is great for privacy and looks good all year round! Separating the outdoor space into areas can keep users happy and look fabulous too! Artificial greenery is the ideal way to separate the garden. These plants can create a space for rest and keep the garden green all year round.
For natural plants, people have to choose between buying small, budget-friendly plants and waiting for them to grow up. Or, they can buy expensive full-size bushes. But they require trimming just a week or two after people plant them. Instead, cost-effective artificial plants can instantly give people the privacy you're looking for and never change. These faux plants will not drop leaves in winter or grow continuously in summer.
4. Bamboo Garden
Tall bamboo plants are suitable for a zen garden. But natural bamboo is a kind of invasive plant. It's really hard to control its growth. That's why more people are choosing artificial bamboo trees. Artificial bamboo gardens bring a zen, calming feeling to people. They are so beautiful on the way. Avoid the hassle of the invasive natural version and enjoy a maintenance-free zen garden with artificial bamboo plants.
— The Best Artificial Plants for Gardens:
Here are some best types of artificial plants for gardens.
1. Artificial boxwood and topiary
They are classic choices for gardens, especially with minimalist and modern design styles. People can use them to accent doorways, paths, doorways, and hedges.
2. Artificial bamboo
Artificial bamboo is elegant and perfect for creating privacy. Artificial bamboo may be the best way for people dealing with a limited area and intend to get the maximum greenery in that space.
3. Artificial hedging
Artificial hedges are another great solution for creating screening. Users can attach them to an existing fence, or they can make a box-style wire hedge and cover it in the artificial hedge.
4. Artificial fern
It is a great choice for people who love a wild look. Users can place them densely for the best effect. They look great in pots and planters and are surrounded by stones.
5. Artificial cypress
Natural cypress can grow very high. However, artificial cypress can bring in feathery foliage. People can use this kind of plant to add texture to the garden.
6. Artificial agave and cacti
There's no plant better for a low-maintenance garden than agave and cacti. Users can choose to plant agave and cacti in spotted groups for a natural look.
7. Artificial palms
Artificial palms work well outside, especially for people who want to evoke a tropical garden. Palm trees look gorgeous outside. Most people love these exotic trees while on holiday. But, it is not easy to grow live palms in their native climate. Thus, an artificial palm tree is the best solution. They are not only suitable for commercial premises, but also they can go to homes.
It's easy to bring a tropical vibe to the garden yard with an artificial palm tree or two. These plants are weatherproof and UV resistant. They can survive in all climates when a natural palm tree would seriously struggle.
8. Artificial Flowers
Last but not least, we come to outdoor artificial flowers. With them, users will enjoy a garden where the blooms never fall or fade. Whatever the season is, people can open the blinds daily to the beauty in the yard. The beautiful blossom with no maintenance is perfect for today's busy lifestyles. There is a great variety of artificial flowers for people to choose from.
Every homeowner dreams of having a gorgeous garden, but fewer people have the time to maintain a real one! It doesn't mean busy folks can't enjoy a wonderful outside garden! An artificial outdoor garden is ideal for people who want a lush garden without much time and effort. These gardens with artificial plants are low maintenance, long-lasting, and look perfect from the start.