Artificial topiaries plants are popular decor items for both indoor and outdoor areas. They are excellent ornamental plants with different patterns and shapes for commercial and residential places. 
— What is an artificial topiary plant? 
An artificial topiary, made of synthetic materials, can be built in various sizes and shapes. Most manufacturers use plastic components to make the trunk and stems of the topiary. And they use plastic to make the flowers and leaves. Some high-quality artificial topiaries also use silk leaves. These parts are constructed in particular shapes. The shape, texture, and color look like a real topiary tree. Balls, spheres, or cubes, are the most common styles. More complex topiaries can resemble animals or other characters. They use faux plants and flowers instead of living ones. There are many advantages to using an artificial topiary instead of a live one in the office or home.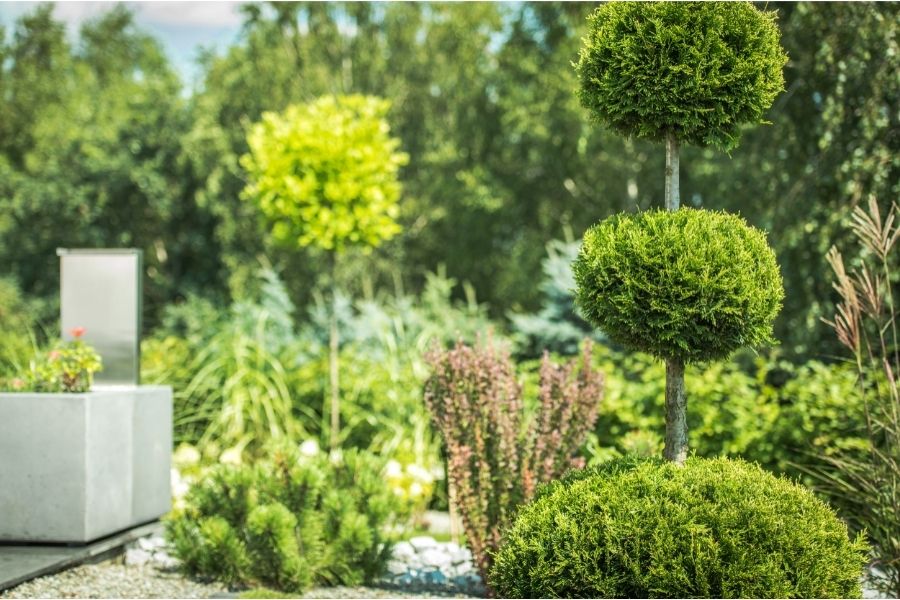 — Why are artificial topiary trees so popular? 
Artificial topiary is designed to look incredibly natural. Many people who love topiary plants have turned to artificial plants because of their busy life and the cost of maintenance. Artificial topiary trees have various styles to choose from without waiting for them to grow before pruning. Nowadays, most people don't have the time, skills, or inclination to shape plants as a specialty at a regular time. However, good-quality artificial topiary plants look fabulous. And they require only a little dusting to keep them in superb condition. 
More and more people choose to buy artificial topiary plants. So, what is the difference between natural and artificial ones? 
— Artificial vs. Natural Topiary Plants 
Compared with artificial topiary, natural topiary plants require a long growth cycle. Moreover, users need to invest much effort in water and fertilize it. Below are some pros of artificial topiary Plants: 
1. Zero maintenance and easy to clean 
There will be no requirement for any watering, trimming, or pruning. These faux plants have zero maintenance so that people can enjoy the garden without burden! Caring for a natural topiary tree can be time-consuming, but faux topiaries are much easier to maintain. Artificial topiaries will keep their appearance and will not wilt over time. 
Moreover, it is easy to clean them. Users only need some occasional dusting. Plants will collect dust over time. Cleaning a natural topiary can be difficult because people don't want to kill the tree accidentally. But, with an artificial topiary, people won't have to worry about damaging the plant. 
2. Safety & Non-toxic
Pets are always attracted to garden plants. Artificial topiary won't attract any insects, and they are friendly to pets. And they don't trigger allergies that will make people and animals uncomfortable. 
3. They can keep their appearance year-round.
Fake topiary won't shed leaves or petals. If they are accidentally knocked over, users don't need to clean up any spilled soil. And they will not rot. They can keep looking gorgeous all year. Furthermore, the artificial topiary won't gradually grow much bigger over time. Users can easily store them if they decide to do something different or move to a new place. 
4. Incredibly authentic
The high-quality faux topiary is often complex to distinguish between natural and artificial. Furthermore, they won't get "bald" spots where the plants haven't grown properly. They look incredibly natural and authentic. Even though users know that the topiary isn't real, the guests won't have to. The most authentic appearance of faux topiaries is an investment. They can bring an element of natural luxury into your place. 
5. Suitable for anywhere
Fake topiary plants can be placed anywhere in the office or at home. They don't need any natural light. Users can put them in the darkest or brightest places. They bring more flexibility to home decor. Users can even put them in rooms without windows to add a nice touch of green.
Moreover, they can be placed not only indoors but also outdoors. Now, many manufacturers add anti-UV additives to faux plants. So they will not lose their vibrant color.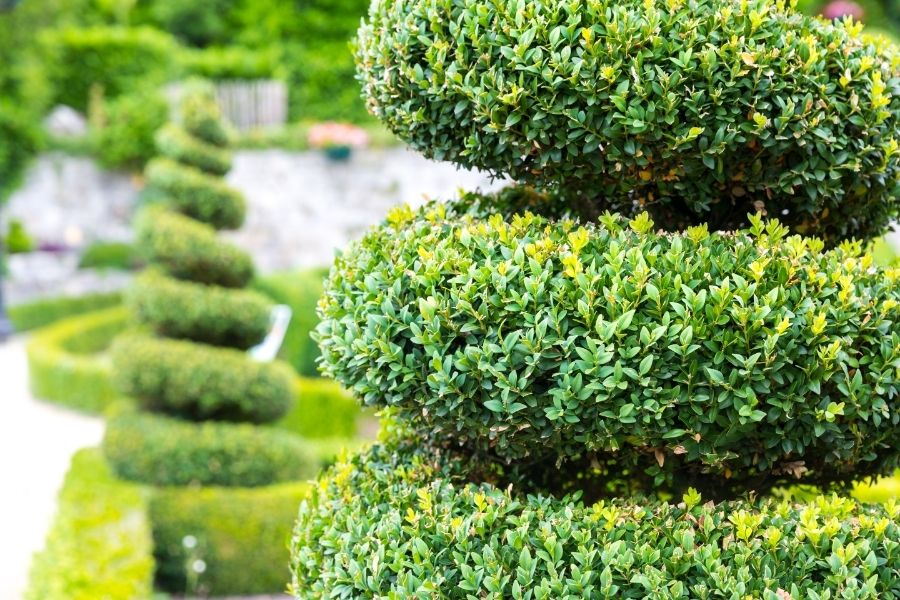 – What Types of Artificial Topiaries Are There? 
What attracts more people to topiary is their interesting shapes. The most common type of artificial topiary is the ball form. They can be placed outside people's front doors or on patios. Take a closer look at the various kinds of artificial topiary. You will know topiary can also come in the form of the following:
1. Artificial Ball Topiary
A carefully-shaped topiary ball is one of the classic shapes. The elegant style is perfect for a porch or the office foyer. Most users choose single balls to form part of a display. They look lovely planted in pots. The artificial topiary single ball can add characters to the places with that 'lollipop' effect. It is an excellent way to create an inviting entry. 
The evergreen boxwood is a trendy design; Its dark green leaves are perfect for creating thick and full effects. There is an excellent selection of artificial ball topiary. Users can choose a potted double ball variety or a tree with more tiers. 
2. Spiral Topiary 
For people who love curve styles of artificial plants, artificial spiral trees can give users a look they want without the tricky pruning. Users can place them indoors or outdoors. Or, they can move them around to create new looks. Typically, artificial spiral topiaries range in height from tiny two-foot trees to stunning six-footers. So even if the space is limited, there's still room to add one of these gorgeous creations. 
Spiral topiaries plants are elegant and tall. They can add height or a touch of verdant refinement to the place. These plants have dark green and lush leaves. They can bring a lovely and creative look. Users can choose different types of artificial topiary according to their requirements. For people who want to add character to their, the artificial cypress spiral is the perfect addition. This type of artificial topiary tree can bring high-end style into the area.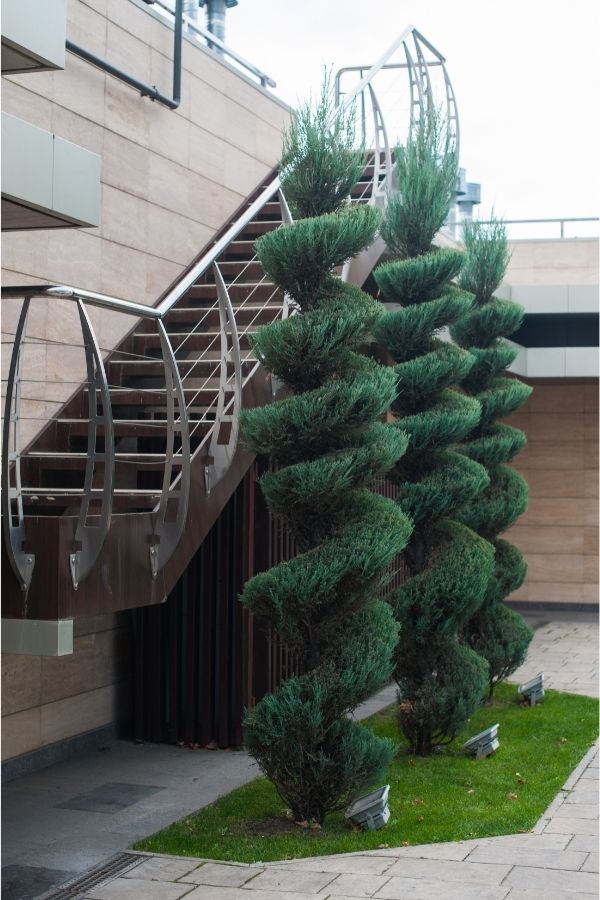 3. Cone Topiary 
Artificial cone topiary can create a focal point in a garden or create the perfect frame for doors. The full foliage brings a more natural look with a sculptured shape. There's a great range of conical plants from tabletop to towering seven-footers. One of the main advantages of this graceful design is that even taller products have a small footprint. So they can still fit into more modest-sized areas. 
4. Topiary Hedges
Artificial hedges are so popular with all sorts of creative uses. They can provide a low-maintenance border for the garden or balcony. They can also be used to create lively shop displays and stylish space dividers in restaurants. People can also trim them with twinkling lights for a stunning effect. They can look smart alongside paths and driveways. And people do not need to worry about keeping them tidy and well-watered. 
Artificial hedges come in a range of styles, heights, and depths. There are small bushy varieties and traditional dividing hedges. Users can always find a style that suits their needs. 
5. Boxwood Topiary
Natural boxwood plants require plenty of attention and maintenance. Boxwood topiary is fantastic for creating maintenance-free classic designs as a traditional topiary plant. Thus, evergreen artificial boxwood is one of the most popular hedging materials. Their smallish, dense leaves in clusters provide thick and year-round screening. For topiary purposes, they are real stars to prune.    
Topiary balls can be stacked vertically and can create a fantastic look. This is an excellent choice for people searching for a decorative artificial plant to impress in a lobby or foyer. Artificial boxwood is definitely the Queen of Topiary. And people always have an excellent selection of fantastical designs to choose from. This type of artificial topiary tree is perfect for the front door area, a patio, or driveways. 
6. Cedar Topiary
Where boxwood topiary brings a tight and tidy finish, cedar plant is something somewhat different. They bring a feeling of looser and laid-back. Their natural liveliness always shines through, even in the intricate topiary styles. The artificial cedar trees capture the exuberance with a leafy texture.
These kinds of plants can go right up to 12 feet tall. They can be an impressive addition to the decoration scheme. Unlike natural cedar plants, they'll never experience leaf burn or struggle with watering issues. They can always stand amazingly, whatever the climate is.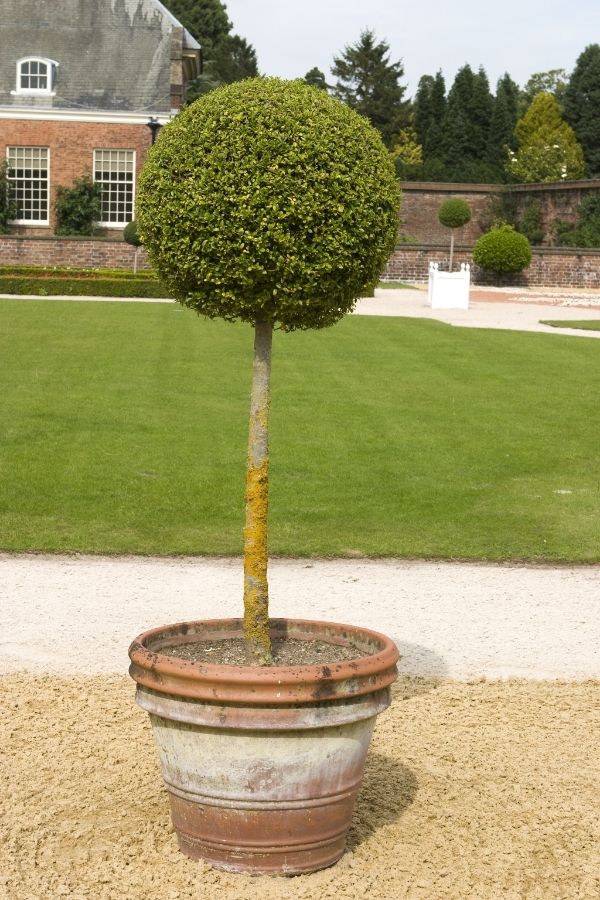 — Can artificial topiary plants go outside? 
Of course, they can. On the market, most artificial topiary plants can have UV protection. They vary depending on the raw materials used in the production process. Artificial plants sprayed with UV on leaves can only last 1-2 years and need regular maintenance. Some artificial plants have been inserted with UV-resistant additives during production. They can stay indoors for more than five years and three years outdoors. 
— Where can we use artificial topiary plants? 
1. For Indoor & Outdoor Decor
For indoor decor, small potted plants can decorate the corners. And artificial boxwood balls can be used to style the ceiling of shopping malls.
For outdoor decor: faux topiary plants with unique shapes can decorate places like gardens and patios. They can bring beauty and a lot of fun!
2. Commercial & Business Projects
For commercial & business decor, users can choose according to the feature of the project. People can choose a topiary with letters and animals if the theme is lively and cute. If the theme is formal, the spiral can be a good choice.
3. Event Design
For event design, a topiary with the shape of animals or letters is the ideal option. They look realistic and attractive at events!
In conclusion, artificial topiary plants are an excellent choice for people who love the look of shaped plants but don't have the time to take care of them. They are beautiful additions to any home or business, inside or out. They can add an element of classic elegance.