Bamboo is a mystical and elegant plant that represents integrity and means friendship. It is an essential plant for creating various landscape themes.
— Why choose artificial bamboo?
Natural bamboo is a sustainable, evergreen plant that belongs to the grass family. It is eco-friendly and grows quickly. Natural bamboo can also self-regenerate from its roots. But, natural potted bamboo may not thrive if not planted in an optimal climate. It means users might not get the desired height out of natural bamboo in a planter box.
If the natural bamboo plant is thriving, users may find that keeping it contained in a planter is hard work. Its roots can often crack the bottom of the planter. And the bamboo needs to be divided and re-potted every couple of years. Natural bamboo is often considered a kind of invasive plant. Its rhizomes are often sources of neighborhood conflict.
Opting for artificial bamboo is the best solution. People can liven up a balcony or a terrace with decorative artificial bamboo. When buying artificial bamboo, people can select the height, the number of containers, and the color. Artificial bamboo will make carefree decoration maintenance or watering indoors and outdoors. Artificial bamboo will not lose leaves. That's why more and more people choose artificial bamboo.
Here are some of the benefits of having artificial bamboo as opposed to natural ones.
1. Artificial bamboo plants cannot die. It is long-lasting and evergreen.
2. Artificial bamboo plants won't grow as aggressively as natural ones.
3. Although natural bamboo doesn't require that much water, people can save water by not having to water the bamboo plant.
4. Users will never need to re-pot an artificial bamboo because it will never outgrow its pot.
5. People can place artificial bamboo inside virtually anywhere. Users won't risk damaging the floors because it doesn't need water.
— What are the different types of artificial bamboo plants?
Maintaining plants is a hobby for someone, but many of us don't have the time to water, trim, prune, or fertilize plants every month. Others are allergic to certain plants. They must avoid a sneezing fit or runny nose whenever they enter a room with a natural plant. Thus, artificial plants are an excellent solution for many people. Someone appreciates the look of natural bamboo but doesn't want to deal with the headache of maintaining a live bamboo tree. Then, artificial bamboo plants are an ideal choice.
Artificial bamboo trees are generally found in two varieties. They are pale-stemmed bamboo and green-stemmed bamboo. We're so familiar with the first one. They have lots of leafy green fronds growing from the stem. The green-stemmed bamboo tends to have stubbier, thicker leaves that grow close to the branch. We can also find black bamboo plants. They have a dark black stem with the same leafy look as the paled-stem type.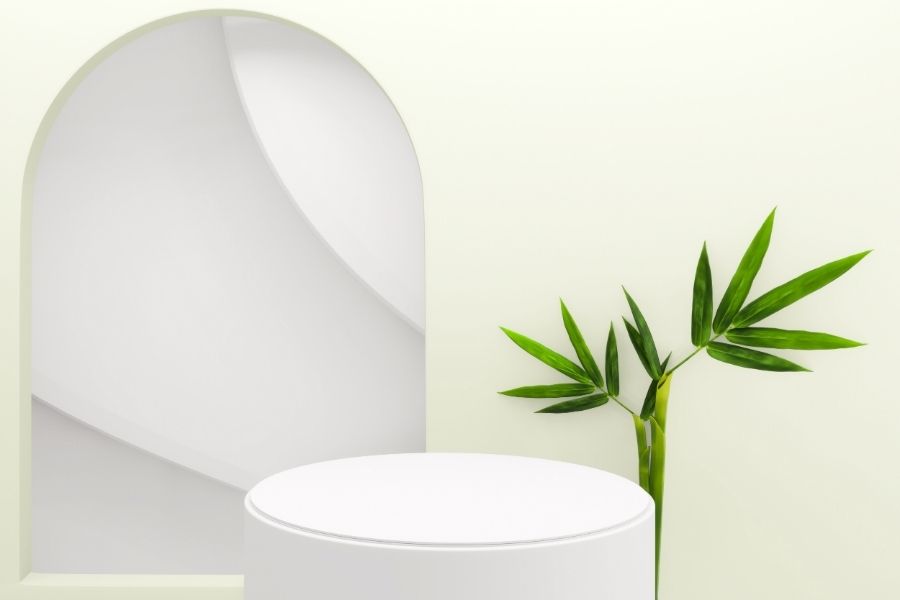 For artificial bamboo trees, the most significant difference besides the stem's color is in the branches' arrangement. Some are packed densely, like the natural growing bamboo varieties clumping together. Some are spaced evenly for decorative purposes. Artificial bamboo trees with stems all starting from the center of the pot are suitable for houseplants or patio plants. And well-spaced artificial bamboo trees are suitable to use as a natural screen.
— Where can users place artificial bamboo trees?
1. Put the artificial bamboo plants on a patio or balcony
The artificial bamboo plants are beautiful and incredibly life-like. Placing faux bamboo plants on a patio or balcony for privacy has become a classic. Artificial bamboo plants can be used in many ways. The most popular way is to use them as privacy screens on balconies and patios. Artificial bamboo plants create a sense of order and privacy in an open area. It retains the sense of space and brings a sense of exoticism.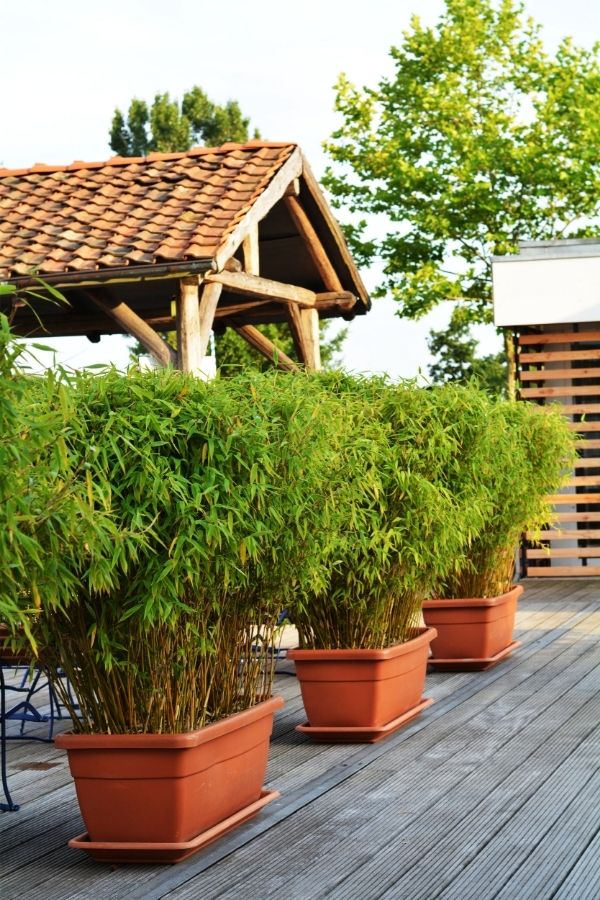 2. As A Fence or A Space Divider
An artificial bamboo fence can be an excellent way of creating a natural-looking barrier. People can also put bamboo plants in front of an existing fence to create an additional layer of interest in the garden landscaping.
People can also use artificial bamboo plants to divide specific areas. Dividing large areas can create smaller and more usable rooms without losing the scale of the space. For example, rows of bamboo plants can create smaller, more private spaces. It is a quick, cost-effective solution for most meeting rooms that many open-plan offices can't deliver. People can use potted bamboo to discrete the pool from the terrace for a large outdoor space like a swimming pool terrace.
3. Cover Unattractive/Damaged Walls
Some damaged walls don't look well and are hard to fix. People can use a line of bamboo plants to hide a damaged or unattractive wall. Putting tall artificial bamboo trees in front of it is a great solution. They can help disguise the eyesore.
4. Place the Artificial Bamboo as A Screen
Placing artificial potted bamboo plants in front of large windows works well in residential and commercial settings. The bamboo trees serve as a beautiful privacy barrier. In a residential area, they could work well in a hallway with abundant windows.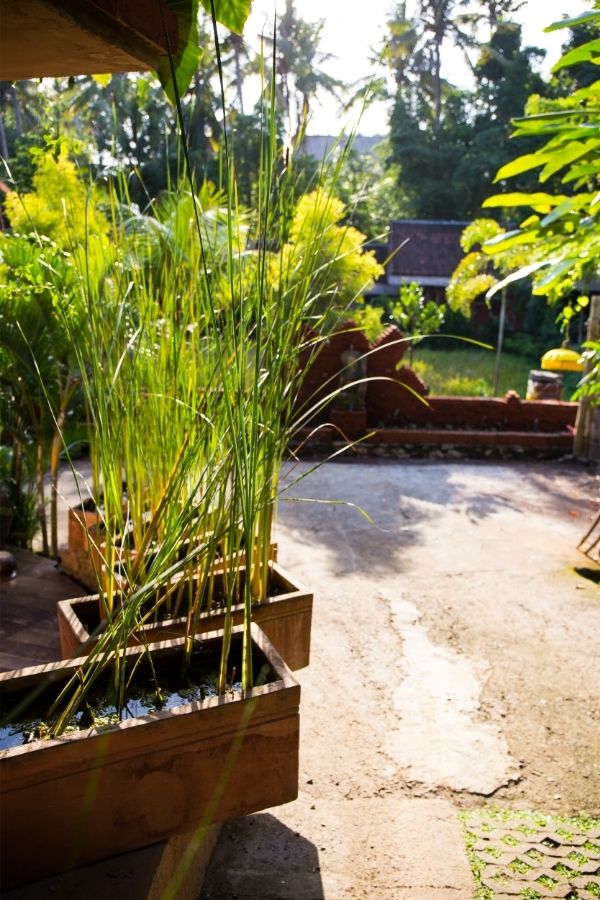 Users can place a bamboo screen to disguise or hide something. And people can use bamboo's natural beauty to bring interest to a boring or plain area. The bamboo plants are tall, so they are suitable for screening larger areas. For refurbishment, artificial bamboo can offer a flexible and attractive choice to screen the area temporarily.
5. Use Indoors As A Decorative Feature
Of course, people can place artificial bamboo plants indoors. Please put them in dark corners that don't receive much natural light where natural plants would suffer. Simple decorations of bamboo plants are suitable for indoor decor with a minimalist style. Put bamboo poles in a modern vase and create a frugal and honest display. Users can also place the bamboo plants close to a wall to add color and interest. The leaves of bamboo will add texture, and the tall stems will bring instant height. People can create a gentle atmosphere of harmony with well-chosen bamboo.
— How to display artificial bamboo plants?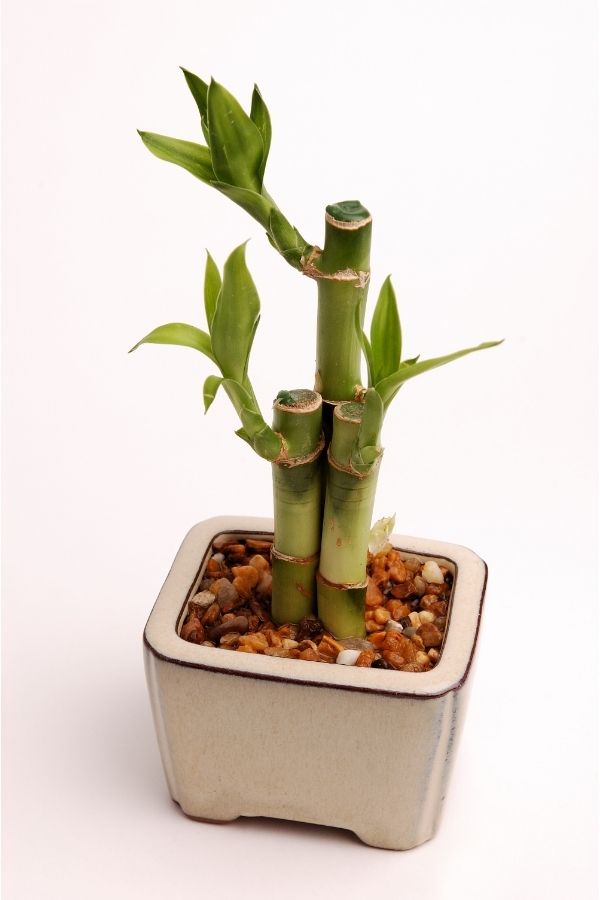 1. Put them in Long Rectangular Planters
Housing artificial bamboo plants in minimalist rectangular planters are a great solution for users who want a sleek and modern look. People can use one long planter or put two or three together side by side. White, gray, wood or even steel would be great choices. Cement planters look contemporary. People can choose the style according to their decor theme.
2. Put them in Individual Pots
People who like a more traditional look are willing to display one single plant and use individual pots. Not only would bamboo plants look amazing housed in individual pots, but the pots themselves bring charm.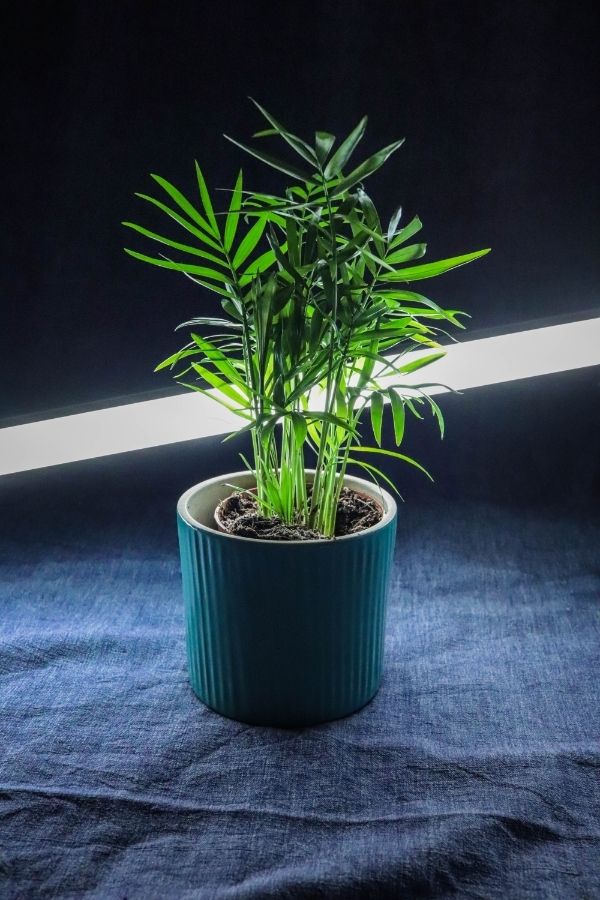 3. Potted In Rocks
If people want to place several plants in one long container, they can put them in rocks. Artificial bamboo plants displayed in beds of river rocks look particularly attractive outdoors.
4. Put them in Baskets
A basket is a great display vessel for artificial bamboo plants. People can display them indoors and outdoors.
— Tips To Style the Artificial Bamboo Plant
When you take the bamboo out of the box, remember to "fluff" the leaves and branches to give it a full look. Please wait for some time. Then, the leaves will fall into place and look more natural.
Don't display the plant in the plastic container it comes in. Be sure to place the plant in a much larger pot.
Artificial bamboo trees can emphasize an existing theme and create a sense of elegance. There are endless ways users can style the leafy plant. Here are some tips for styling the new artificial bamboo plant.
1. A small artificial bamboo plant works well in the bathrooms. It can liven up and add a refreshing feel to the space.
2. Place the bamboo plant in front of the kitchen or windows. It can bring some privacy without relying on blinds and curtains.
3. Wrap a string of fairy lights around the artificial bamboo plant for a whimsical feel. It works especially well if users want to give their place a relaxed and welcoming feel in the evenings!
4. Put a large bamboo plant in the corner of a guest room or bedroom for a tropical feel. Users don't need to care about spilling soil or water on the floor.
5. Place a medium-sized bamboo tree on a balcony or garden. It will make the outdoor space feel breezy and fresh! It can also bring a sense of privacy, even in the city's center.
6. If the space is limited, users can place the bamboo plant on top. It is a great way to create visual floor space without any more room. You can pair your plant stand with a sofa, coffee table, or lamp. Remember to choose a smaller artificial bamboo plant to do this.
7. Select a miniature artificial bamboo plant on a shelf alongside books. The combination of paper and leaves is always a winner!
8. Put a row of bamboo plants along a wall or planter around the garden's edge. They can not only protect the garden from prying eyes but also turn the outdoor space into their garden of Eden!
Artificial bamboos are perfect for people who want to add more greenery to their space. They work great for places that are too dark for natural plants. They are more flexible in how people choose to place them. Moreover, they are portable to adapt to changes in design or layout.