As indoor artificial plants have diverse species, they are common in daily life. As a wholesaler, you can access a wide range of outlets. You can also connect with various clients. Providing products in bulk enables a broader audience to access your products. Thus, you can expand your business in a short time.
As we all know, China is the leading exporter in the world. China produces most of the indoor artificial plants now. Many big brands manufacture their products in factories in China. No matter what type of indoor artificial plants you want, you will find them all in China. This article is for those who intend to import artificial plants from China. We hope you can get more profits. And it can skyrocket your business in the artificial plant industry.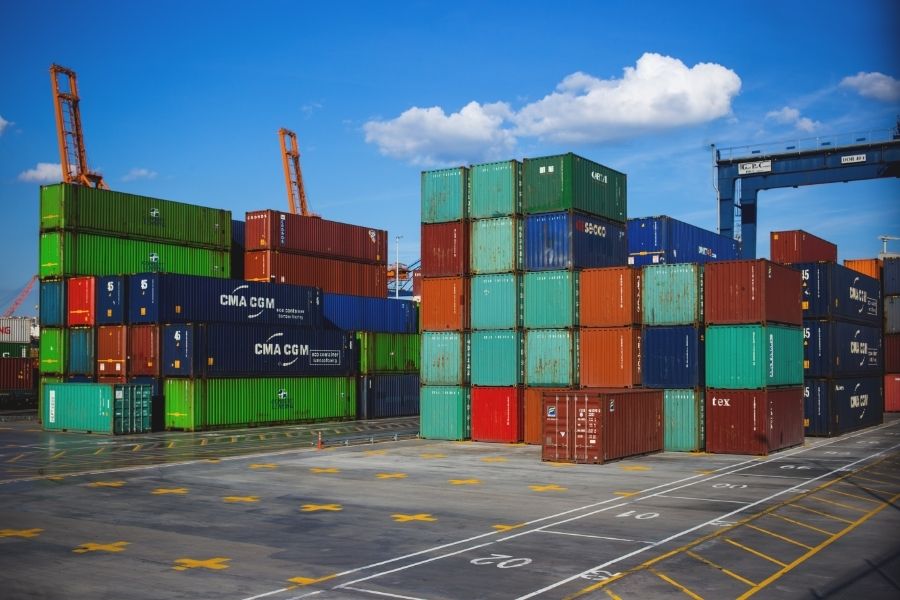 — Pros of indoor artificial plants with the natural ones
1. Indoor artificial plants have various styles.
The raw materials of artificial plants are different. There are silk plants, polyester plants, and polyethylene plants. For the faux plant, there will be no influence from natural laws. So, factories can customize artificial plants into various sizes and colors. Clients can combine them into a pot to make a beautiful DIY bonsai.
2. Indoor artificial plants can be evergreen and long-lasting.
Keeping natural plants green is not easy because you have to take care of them with much time. At the same time, indoor artificial plants can last years without watering or fertilizing them. Evergreen is an important advantage of indoor artificial plants. The durability makes artificial plants very popular for people with limited time. Seasonal changes will never affect the faux indoor plants. Whether in bad weather or seasons, they can maintain the same color and shape.
3. The maintenance cost for indoor artificial plants is low.
Made of plastic or silk, they don't need water, soil, or trimming. With little maintenance, they can stay in their appearance for years. In comparison to natural plants, indoor artificial plants do not need fertilizing. With a little wipe-down, they will continue to look perfect for years.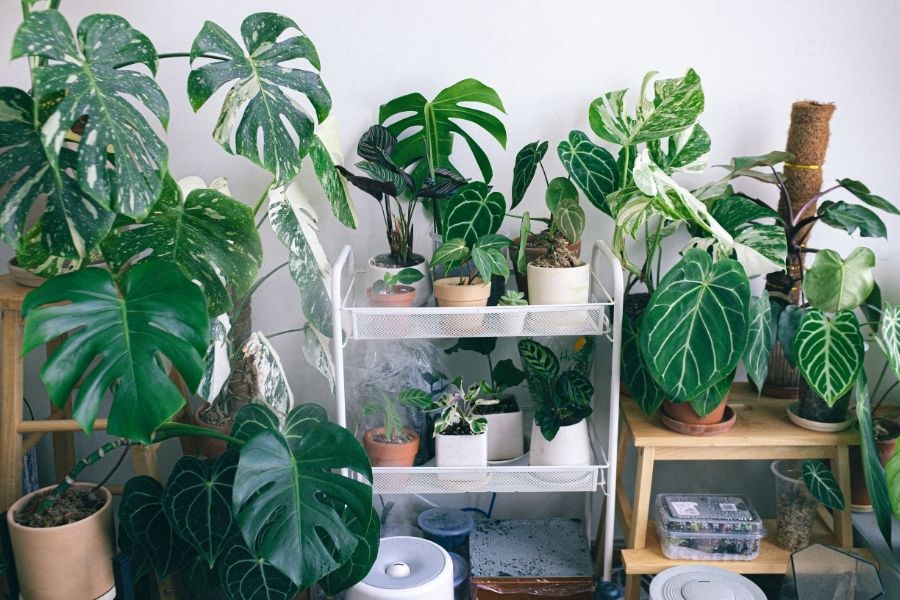 4. Indoor artificial plants are allergy-free.
Natural indoor artificial plants may cause allergies. But faux indoor plants will never have this problem. As we all know, some people are allergic to natural plants' smell or pollen. Pollen is a substance that comes from natural plants. Artificial plants can be without any of that. So, people don't have to worry about allergies if they use artificial plants instead.
— How to choose high-quality indoor artificial plants?
1. Distinguish the raw materials of the products.
The two main raw materials for indoor artificial plants are plastic and silk. Some species use a combination of materials.
Polyethylene plastic is a material with lower costs. The price of plastic plants is in the low to medium price range. It is very durable and suitable for indoor decoration.
Made of silk fibers, the artificial silk plant looks charming. Sometimes manufacturers will combine silk with other materials to provide better strength. Silk plants look natural and realistic. Producers can dye them in any color. They are top in the list of most artificial plant clients.
2. Higher cost of indoor artificial plants results in better performance.
Quality is the first thing to consider for indoor artificial plants. The quality of the faux indoor plants reflects in the price. The higher price offers a more realistic looking. The more cost you pay, the more considerate extra service you will get. Artificial plants with a lower price may have a short time of warranty.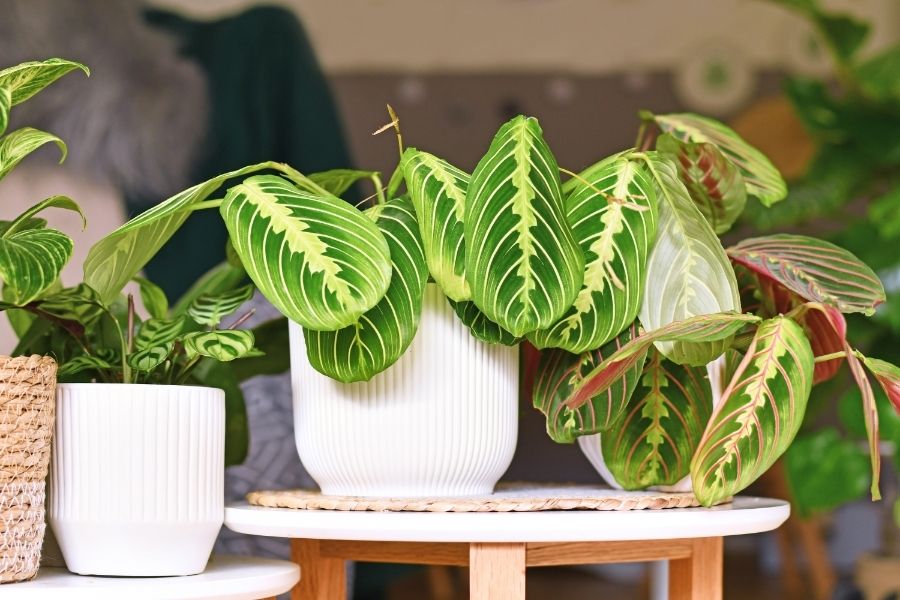 3. Choose products with a solid structure and good appearance.
The leaves filled with plastic foam will reflect the fullness of the plants. A solid pot filled with cement will not shake with the wind. The pots can keep the plants from falling.
Make sure the plant's color is not a mess. Sometimes, the factory may not dye the color very well. It will affect the selling of the plants.
Some manufacturers cut parts and accessories from certain designs to save costs. Make sure the plant is the same as you ordered.
For the assembling, double-check if they glue the parts together. If the factory produces it with good assembling, it will not fall apart.
4. Pay attention to the exquisite details and packaging
Excellent molds can make realistic textures on leaves, stems, and trunks. A good manufacturer can make the leaves with appropriate reflective properties.
The package is also important as the indoor artificial plant is a light product. Communicate with the supplier that one carton can only have a certain quantity of plants. Too many plants in one carton will deform the shapes.
Most Chinese suppliers will provide you with high-quality indoor artificial plants and services. The following part shows why you can choose a reliable supplier in China.
— Best-Selling Indoor Artificial Plants In 2022
1. Indoor Artificial Palm Plant
The realistic lush leaves extend into large fan shapes. The indoor artificial palm plants stand at different heights. Made from silk fabric, people can not distinguish them from real plants. The palm plant can help to maximize the wasted indoor spaces. These evergreen plants have more than five years of warranty for safety indoors.
People can use these artificial palm trees in indoor spaces, like offices, homes, restaurants, etc. They look genuine and elegant.
2. Indoor Artificial Monstera Trees
Made of plastic, the leaves of the artificial monstera can restore the deep green of the natural ones. The guests will meet the faux tropical foliage. It seems like they are walking in a humid tropical rainforest. With many customization options, artificial monstera trees become the ideal products for wholesalers. They come in various sizes and colors. The artificial monstera plants are suitable for different needs of indoor decor. These artificial plants are also very easy to take care of.
3. Indoor Artificial Fiddle-Leaf Fig Trees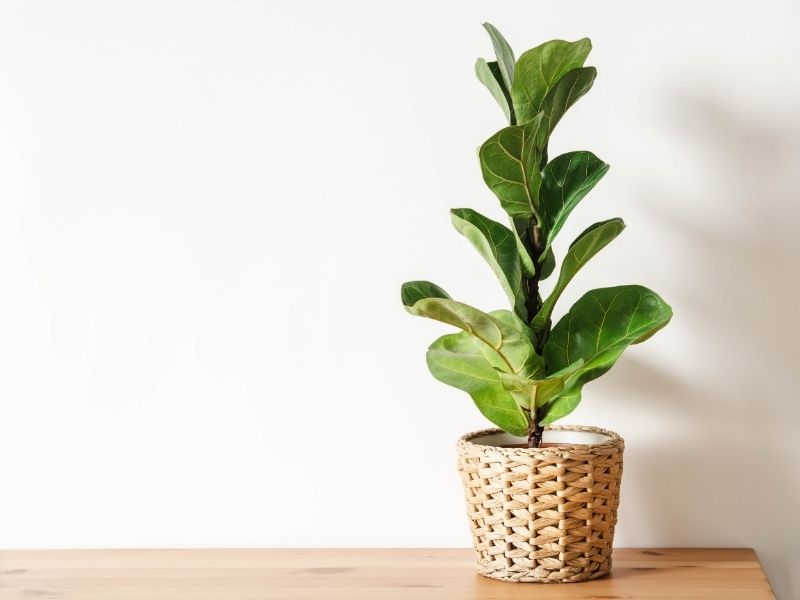 More and more young people prefer artificial fiddle leaf fig trees for indoor decor. They can brighten up their corners with the evergreen foliage. Artificial Fiddle-leaf plants add a lot to making a natural environment. It is a significant benefit for interior space without planting natural ones.
4. Indoor Artificial Potted Snake Plant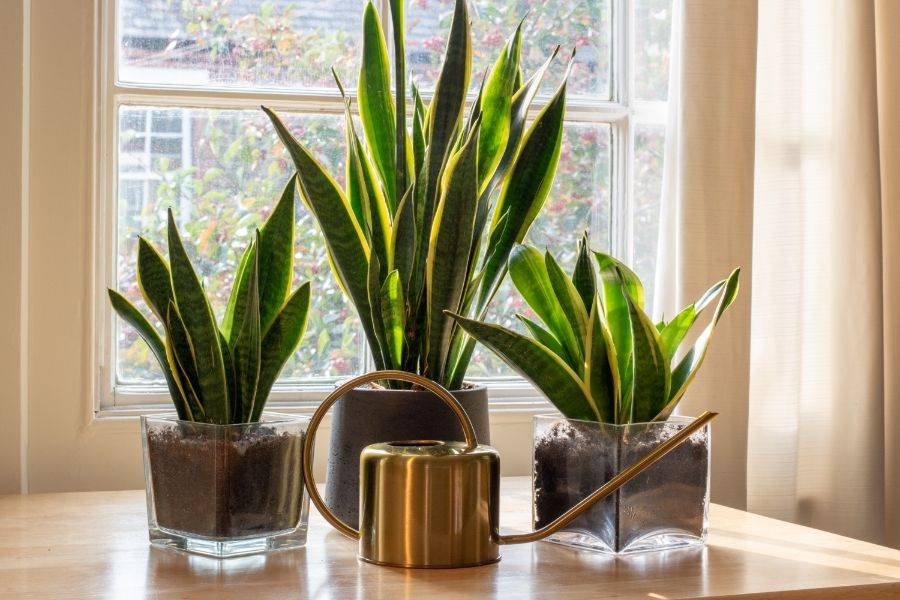 The leaves of the snake's artificial plants have yellow edges. Their leaves are waxy and variegated. They can resemble the natural one's intricate detailing. It is the ideal choice for some elegant situations. Like office places, studies, and living rooms. They look realistic to the touch. And they don't need much work at all to make them look good.
— Why do wholesalers import artificial plants from China?
1. Less competition and more profits
Chinese suppliers provide various affordable artificial plants for everyone. Factories have lower labor costs and available raw materials in China. Thus, you can buy artificial plants from Chinese suppliers at a competitive price.
China is a major producer of indoor artificial plants. It has the largest production scale in the world. China produces a large proportion of faux plants. The export volume of China is increasing year by year. Wholesalers can find artificial plants in China everywhere.
The competition in the global artificial plant industry increases day-to-day. So, the indoor artificial plant industry has emerged in China. More and more Chinese artificial plant factories are expanding their production lines. There are various product lines like artificial green walls, artificial trees, artificial balls, and so on. These factories have production experience, longer production history, and a standardized management system. They can supply good quality products and high production efficiency service. More and more wholesalers want to expand their indoor artificial plant business. Then, importing from China is a perfect choice.
2. Efficient production on a large scale
Large-scale and efficient production makes our prices more competitive in China. Importers always choose to buy artificial plants from China. It is a wise choice. And it will bring your business more market space and profit margin.
As we all know, manufacturers in China are efficient in production. With more production lines, they have a higher production capacity.
3. The quality is getting better and better.
Quality is the key point of the products. Chinese manufacturers have been in the artificial plant industry for decades. They have seized the foundation of quality. Increasing export volume allows Chinese suppliers to enter a better development process.
4. Complete industrial chain of indoor artificial plants in China
China has various marketplaces for different product categories. It became a complete industrial chain from raw material, molding, and producing to screening. The established industrial chain has increased production efficiency. Artificial plants in China are also at the top of the global industrial chain. And most factories can provide customized products. Like anti-UV products and fireproof products. If you want to enrich your product line, start your business with Chinese suppliers. They can also help you meet diversified market needs.
— 3 key elements to choosing the right indoor artificial plants supplier in China
1. Authenticity of company information
Check the supplier information to make sure it is accurate. And you can analyze the scale of the company from its overview and pictures. Here are four tips for you:
Ø Make sure the authenticity through the enterprise information query platform.
Ø Confirm the authenticity through Alibaba.
Ø Check the authenticity by making a phone call.
Ø Visit supplier's factories.
2. Quality report of the products–REACH
Check if the supplier has the test of REACH. We all know that indoor artificial plants need to use non-toxic substances. The REACH Regulation lists restricted chemicals in artificial plants. The aim is to improve the protection of human health and the environment. Tested to REACH, it will show there are no harmful chemicals in the artificial plants.
Chinese suppliers have an ongoing commitment to quality. The indoor artificial plants can meet the higher laboratory test standard.
3. Features with Third-party Certification Report
Most Chinese manufacturers have qualified production lines and a standard quality control system. The fire & UV resistant test report can guarantee a longer life span. Suppliers can have the certification reports from a third party, like TUV, BV, and SGS. Choose the supplier that passed various international tests like RoHS, REACH, and PAH tests. These certificates are necessary for indoor safety.
— Where to Import indoor artificial plants from China?
1. Guangdong Indoor Artificial Plants Factories
Guangdong province is the high-end market for indoor artificial plants. Manufacturers in Dongguan produce much higher quality plants. The price is also higher than in other places.
2. Zhejiang Indoor Artificial Plants Wholesale Market
The wholesale market in Zhejiang is the largest in the world for small commodities. The indoor artificial plant is in the very beginning section of the Zhejiang market. It's very easy to glance at all kinds of indoor artificial plants. If you are a newcomer to the artificial plant industry, this is the best place.
There are more than 1,000 artificial plant suppliers and over 30,000 in one place. But, those suppliers are not all factories. Some are trading companies. In this market, suppliers don't manufacture all the material. They buy from other places and assemble them. In Zhejiang Market, you can hire a market guide for help.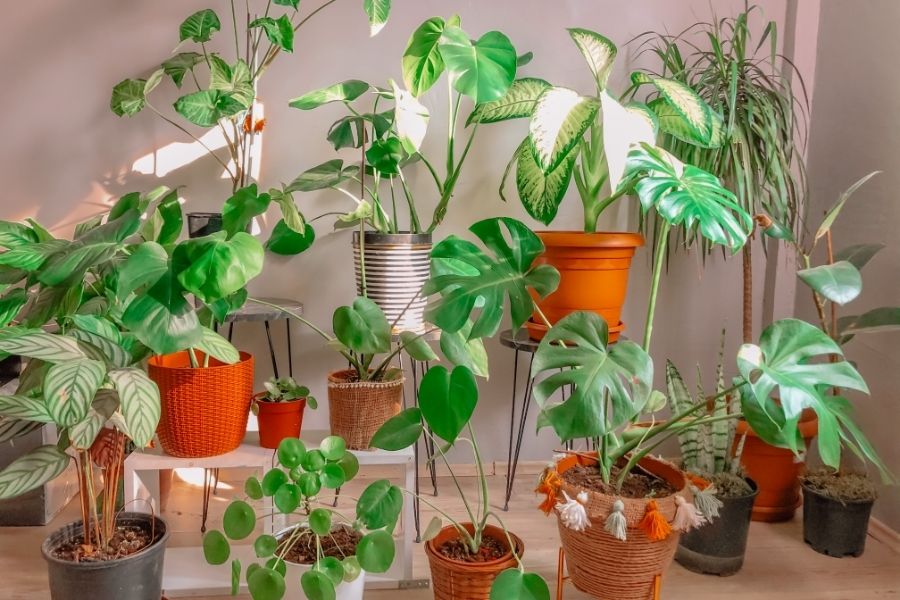 3. Tianjin Indoor Artificial Plants Factories
There are a lot of small factories in Tianjin city. Same as Zhejiang, some suppliers buy materials and assemble them in the warehouse. Some are big manufacturers with thousands of square meters of showrooms. Those factories have competitive prices for all kinds of indoor artificial plants.
4. Hebei Indoor Artificial Plants Factories
Factories in Hebei have a price advantage in the materials. Hebei is the low-end market for indoor artificial plants. They have regular business and ship many containers every year to other countries.
China is a great place to import artificial plants. It is the leading artificial plant manufacturer in the world. Suppliers can always provide trendy indoor artificial plants in your target countries. Whether you are wholesalers, distributors, retailers, importers, or traders, it is the best choice for you to import from China.