Creating a commercial interior is both inviting and stylish. Incorporating greenery is a great way to achieve this. But, natural plants can be high-maintenance and challenging to keep alive. Artificial greenery walls are an attractive and easy-to-care-for option. They can transform any space. This blog post will showcase the top artificial greenery commercial wall options.
— What is an artificial greenery wall?
Installing an artificial greenery wall in a commercial space may seem daunting. But, the process is simple and cost-effective. Artificial greenery walls are composed of individual panels. Users can arrange them to create any shape or size wall. The panels come with pre-attached foliage for easy installation. They need no maintenance, and people can use them indoors or outdoors. Artificial greenery walls can bring vibrant colors and life to any space. The faux greenery wall is also great for hiding unsightly surfaces.
— What are the benefits of having an artificial greenery wall?
• Low Maintenance: Artificial greenery walls need no fertilizing or trimming. This means people can enjoy a beautiful and lush wall without worrying about caring.
• Cost-Effective: Artificial greenery walls are less expensive than natural plants. They also last longer and provide more value for money in the long run. And, because there is no need for soil, water, or extra nutrients, the upkeep cost is minimal.
• Durability: Artificial greenery walls are very durable. They can withstand harsh weather conditions. It means they will last longer than natural plants in the same environment.
• Versatility: Artificial greenery walls come in various sizes, shapes, and colors. This makes it easy to create the perfect look for any space.
• Safety: Artificial greenery wall is UV protected and fire retardant. They are safer and have longer interior design and landscape. Moreover, artificial greenery walls are an excellent option for anyone. They are friendly to people with allergies or sensitivities to natural plants. They do not produce pollen and do not attract insects.
• Environmental: The raw material of artificial greenery walls is recyclable. They do not contribute to greenhouse gas emissions. They need no water to stay alive. So people can use them in drought-prone areas.
Now that you know all the benefits of having an artificial greenery wall. Let's look at five top options for commercial interiors.
— What are the top five artificial greenery wall options for commercial interiors?
1. Interior Artificial Hospitality Wall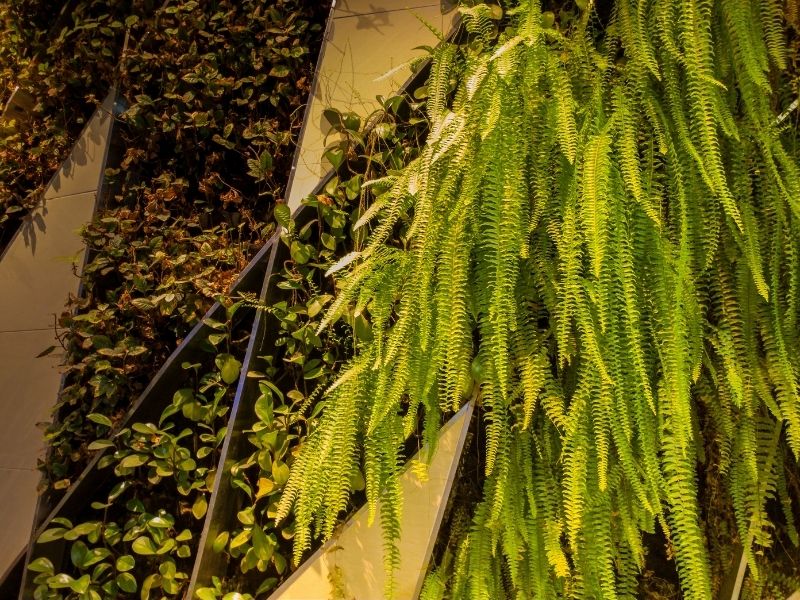 The artificial hospitality wall is a unique office plant to decorate interiors. This splash of green will spruce up the interior area within minutes. Users can choose to decorate the interior spaces for residential and commercial landscapes. Users can mix kinds of artificial foliage hedges panels. They can choose classic ivy, laurel, and fern. The green wall is a unique commercial feature with a designed pattern. The artificial hedges are super easy to install and maintain with over 3-5 years as an indoor display.
2. Artificial LOGO Wall Plants
This style of artificial vertical garden panels has no colorful flowers. They are perfect for commercial walls. They can add natural elements to any surface for a sense of relaxation. The standard size for one piece of artificial green wall mat is 1*1m. Users can assemble, cut, and install according to their wall sizes. Moreover, they are none heavy metal and are eco-friendly for humans.
3. Ceiling Cover With Artificial Hanging Ivy
The creative use of faux hanging plants installed upside down on the ceiling will be ideal. The lush fern plants with single stems are very natural. They can transform the indoor commercial area into a jungle world. And they can bring users pleasure and relaxation. The raw material of artificial ivy hanging plants is fresh PE and fire-rated materials to follow the indoor fire code. So they are safe for indoor use.
4. Preserved Artificial Moss Wall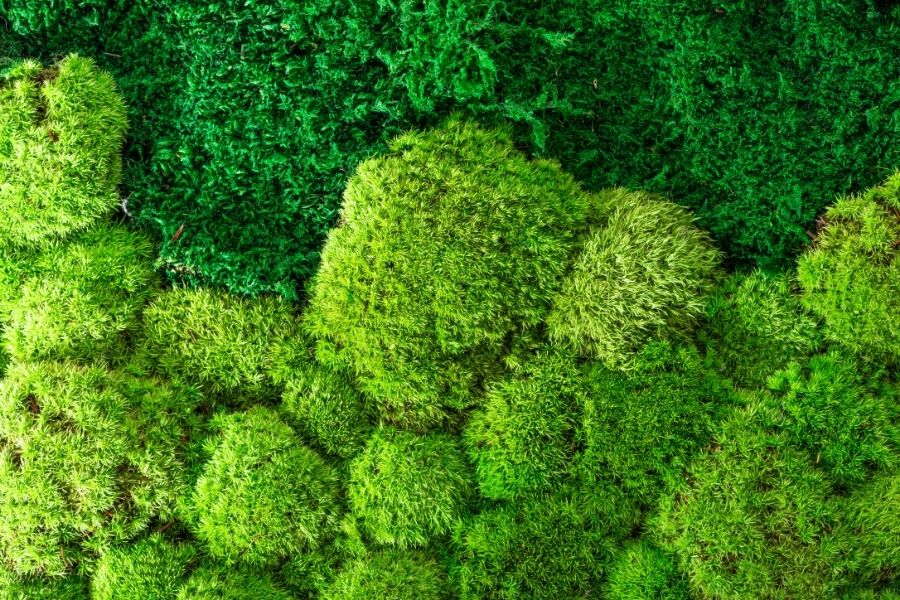 The preserved moss wall is a great way to create an inviting and natural atmosphere in any space. The moss wall has various colors and sizes. So designers can create different patterns on the mat for an artistic look. They are popular with interior decor companies and home improvement companies. They are environmental plants wall with an exotic looking. They are fade resistant and can keep green for years.
5. Artificial Interior Wall for Restaurant Decor
Manufacturing technology keeps improving. Artificial wall panels are safe for commercial interior design with a fire retardant. More and more restaurant owners choose these convenient green wall panels. They can create a green and relaxed atmosphere for customers. They are easy to wash and maintain. And they are UV-proof for long life without discoloring or fading.
— What are the key considerations when selecting artificial greenery walls?
These are vital considerations when selecting artificial greenery walls for commercial interiors. These considerations will help you choose the best option for commercial interior space.
• Quality: Ensure that the raw material is high-quality and has UV protection. The higher quality of the material will last longer. And check if the plants' wall panels are fire retardant for indoor use. Artificial greenery walls can last for 3-5 years. Make sure the one you choose is built to stand up to wear and tear.
• Variety: When selecting artificial greenery walls, consider the range of options available. Different plants and foliage can be used to create different looks and atmospheres. Consider factors such as size, shapes, colors, and patterns.
• Eco-Friendliness: Choose artificial greenery walls made of environmental materials and recyclable components. This will reduce environmental impact and waste.
• Customization: Many artificial greenery walls offer customization options. They allow you to create unique designs according to different preferences.
• Price: Price is an essential factor when selecting artificial greenery walls. Compare the prices of different products and select one that best fits your budget.
• Aesthetic: Artificial greenery walls come in various sizes, textures, shapes, and colors. Choose the option that best matches the aesthetic of commercial interior space. And it should also provide a relaxing atmosphere for the users.
• Maintenance: Consider the maintenance needed for the artificial greenery walls. Some need more frequent cleaning, while others are less time-consuming. Choose one that is easy to maintain and clean.
In conclusion, artificial greenery walls can provide an elegant and modern look to any commercial interior. They are easy to maintain, UV-proof, and fire retardant. When selecting artificial greenery walls for your business, consider quality, variety, customization options, price range, and maintenance.