Are artificial plants in pots a good idea for home decoration?
You might wonder if artificial plants in pots are useful for home interior decoration. Well, Yes. I find them very helpful in the décor of an urban home. With little or no decoration experience, just a piece of the potted artificial plant can help you create whole new magic in your living space. So, it's definitely a YAY!
According to recent statistics, artificial plants in pots have become the number one plant (faux plant actually) on the export list. Everyone wants to have these in their homes and offices; hence, the plants' suppliers and importers are countless.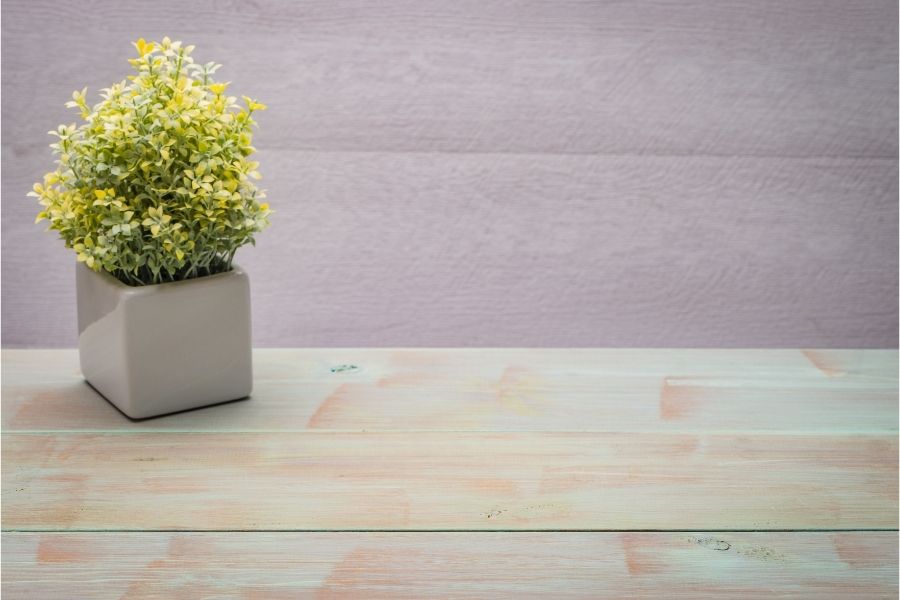 A drawback that may apply to users is the lack of necessary skills in incorporating the décor idea in their spaces. In this post, I will share some tips on using artificial plants in a pot for your home interior. However, I will also include some reasons why these faux potted plants are relevant. Take a look below;
Why use artificial plants in pots for home interior?
Although there are a lot of artificial plant styles to use in home interior decoration, I always recommend the artificial plant in pots for the following reasons;
1. They do not require continuous and ongoing maintenance.
You don't require a gardener's cultivation know-how to maintain and care for the plant with potted artificial plants. So, you won't need all the tools and materials. This means you wouldn't need to spend money on all those. All you will need is a piece of clean cloth for the dusting.
2. They add to the aesthetic value of the home's interior.
Because the pots can be placed anywhere you choose, this gives you the maximum opportunity to design your home however you please. You can place at door entrances, hallways, living rooms, etc.
3. They come in different designs.
Potted artificial plants come in different sizes, colors, and shapes. Either way, they come, they still look so realistic. So, you are given a variety of options to pick from, all depending on your preferences.
4. They are bug and insect-free plants.
I hate bugs! I can't live with bugs! That's why I prefer artificial plants. With them, I don't have to worry about insect or pest control. Also, there is no need for weeding.
5. No need for soil or sunlight
Getting the right soil for real potting plants can be difficult. Also, sunlight is very essential. But the artificial plants in pots do not require all these.
You wouldn't need to be too mindful about the positioning of the plant concerning sunlight. You can even choose to beautify the interior of the pots with white pebbles instead of soil.
6. No toxic effect
Artificial plants generally do not have toxic or harmful effects on people's health, unlike the real plants, which may cause allergic reactions. Also, some plants are poisonous (that's a topic for another day).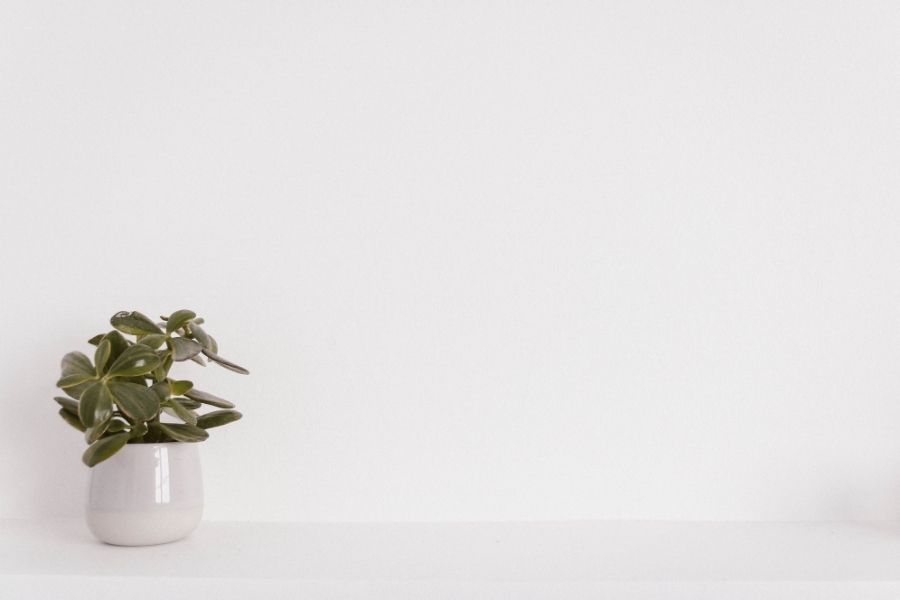 7. They are more durable and long-lasting.
Artificial plants made from high-quality materials (UV resistant and fire retardant) are very durable and can last for a long time. Take note that the type of material used will determine the quality of the plant.
Types of artificial plants in pots
Image from PixabayBased on the size of the pots, there are two types of artificial plants in pots. They are the large-sized and small-sized potted artificial plants. 
1. Large potted artificial plants
They are also referred to as the 'potted faux trees.' They are large-sized pots standing about 5 to 6 feet away from the ground. Yes, they are that tall. That's why they are referred to as trees.
Due to their large size, they occupy more room and are mostly used in commercial areas. If you need a stress-relieving plant in a pot, then this would be better than the smaller counterparts.
2. Small potted artificial plants
This comes in smaller and more portable sizes, usually filled with faux flowering plants. These are the easiest to include in home interior decoration. They can be placed on furniture tops, shelves, and cabinets, or even on walls.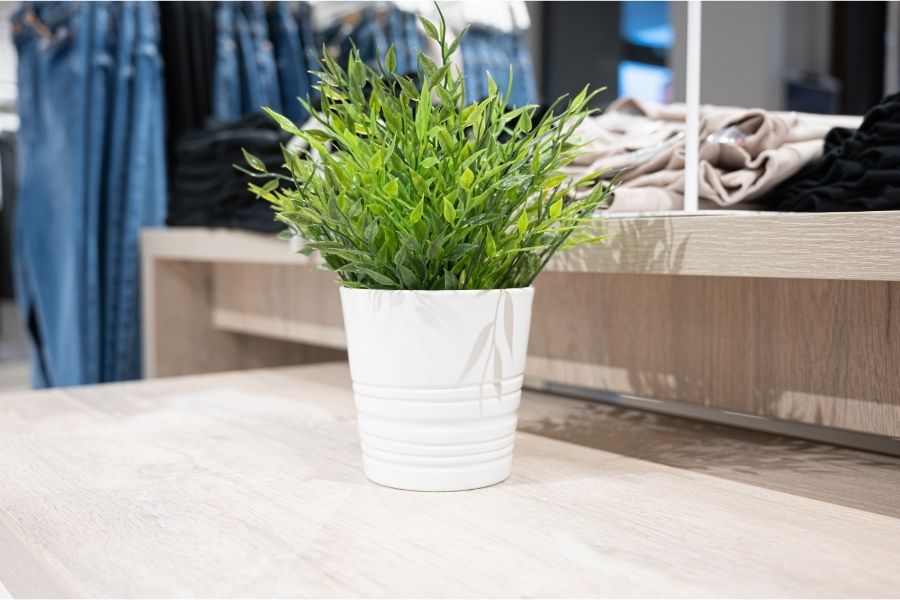 Artificial plants in pots for home décor ideas
With the little knowledge I have about home interior decoration, I will recommend some home decoration ideas to include artificial plants' pots.
1. As wall hangings
Small artificial plants in pots can be used as wall hangings. When colorful flowering faux plants are put into small pots, it can have shorter handles attached to walls and ceilings. This décor idea is prevalent in country-style furnishing.
2. On shelves and cabinets
Placing artificial plants in pots on your shelves or cabinets is not a bad idea. I think it's a fabulous one. These pots should be portable, so they don't appear to be in clusters. You can mix-match the piece with complementing accessories and frames for a more superior look.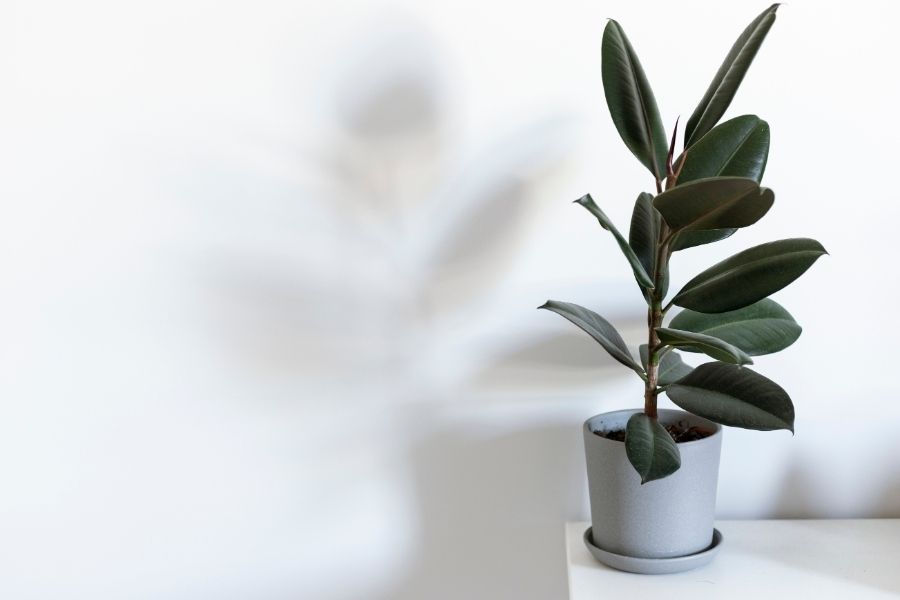 3. On tabletops
If you don't want your large table to look too bare, then grab some potted plants. Be careful not to overdo it as the tables are delicate items to decorate appropriately.
4. Home entrances and hallways
Hallways are areas in our homes that we neglect the most during furnishing. This should actually be the opposite. It would be best if you paid more attention to this area. This is where the large potted artificial plants can play a cool role.
Those gigantic and brilliant looking faux trees can help you welcome your guests. I mean, what better way is it to receive a visitor than with the beautiful trees waving at them?
That's just the tip of the iceberg on what you can do with your artificial potted plants.
Frequently Asked Questions (FAQs) about potted artificial plants
Have some questions about these fake plants? Check out if any of these answers your items.
1. Can I keep my potted artificial plant outside?
Yes! You can keep your faux potted plants outside. This will only be possible if your purchased plants made from UV tested materials. Otherwise, they will wear out sooner than they should.
2. What type of pots do artificial plants come in?
Artificial plants can come in plastic, rubber, or ceramic pots. Moreover, the most suitable for use are the rubber or plastic pots as the ceramics are prone to damage easily.
3. How can I make my potted plants look more realistic?
Easy way! There are some simple tricks to spice up your artificial plants in pots. One way is to make use of fake soil. You can also make use of white pebbles. There are many ways, and you can find out more of them online.
4. Can I wash my artificial plants?
That would depend on the nature of the material used in the synthesis of the leaves and stem. If it is made of plastic or rubber, you can wash, otherwise just dust with feather dusters.
Wrap up!
That's a wrap, guys! Artificial plants in pots, either large or small in size, are definitely exotic choices. Please choose any of the ways suitable for your furnishing style and incorporate it into your home interior.
If you have better ideas on how to go about this, why not tell me in the comment section? I'd love to hear from you, friend. Thanks for reading!