Artificial plants are taking over the design industry due to the exceptional feel they give to indoor and outdoor design themes.
Research on suppliers shows that 70% of buyers prefer artificial plants to real ones because they are durable and come in various colors and textures. Also, 90% of clients demand using artificial plants in their design projects.
Still, not knowing the applicable plantscape to incorporate into designs and investing in the wrong products can mar your work. That is why it is essential to know the standard principles of plantscaping and invest in the right plants.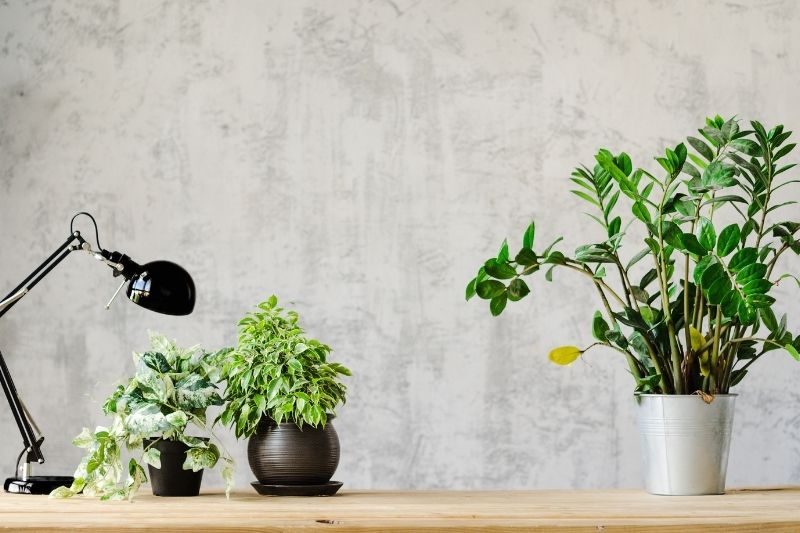 This article will discuss the following:
Why design companies use artificial plants
How to combine artificial plants with design
Types of plant landscape
Best faux plant
What to look out for when purchasing artificial plant
Where to buy artificial plant
Why design companies use artificial plants
Artificial plants are often used based on the client's project order.
Some of these projects include;
home décor
office design
architecture
airplane
boats and yacht
event planning
retail vendor
commercial
In some cases, some design companies use these artificial flowers to beautify their offices, both indoor and outdoor decor. This is very important for companies that want to introduce artificial flowers to their customers.
How to combine artificial plant with design
When adding artificial plants to your designs, you should not add them randomly as an ordinary aesthetic. It is essential to apply some principles when installing artificial flowers.
Ensure good balance: it is necessary to ensure that artificial plants are placed in a way that balances with other environmental designs. For proper balance, use artificial flowers as a focal point and have other pieces branch off from it, giving a harmonized view.
Ever been to an office and you can barely notice some pieces? Or do you love a design, but something feels off about it? You feel some things should be added, removed, repositioned, and so on. You think this way because, visually, the design and arrangement pattern lacks balance. Your flowers don't necessarily have to be at the center, they can be placed at a strategic point(s) that doesn't take all attention and makes other pieces invisible but blends in.
Get inspiration from another piece: When looking out for flower or plant colors, you don't necessarily have to start looking for unique colors that you have to blend into a design. You can get inspiration from the painting on the wall, the color of the furniture, and other existing pieces. For example, if you have furniture made with white and purple designs, you can get a purple flower with a white vase or a white flower with a purple vase. Preferably you can mix both colors. Matching flower color designs with existing pieces makes it easier for people to understand your design.
Scale and proportion: Ensure you position flowers in the correct scale and proportion. Putting small flowers in a large room with a high ceiling makes it impossible for the flowers to be noticed; if they are detected, they won't impact that environment. Likewise, putting tall and large flowers in a small room. It makes the room look threatening and intimidates another piece, distorting design unity.
Contrast: You should allow artificial flowers to stand out sometimes. Trying to fit a faux plant into a design to have a monochrome look can be too plain sometimes. It is good to apply contrast in artificial plant installation. If you have a dark theme room setting, you can set up a vibrant/bright color artificial plant. The ability to blend in opposing themes and colors makes one a sound designer and produces unique work.
Use the right faux plant for the suitable event: When picking out artificial plants for a design, you must first consider the event or the story it tells. Just like art, flowers also tell stories and have significance. The flowers used for weddings differ from those used at offices.
Colour and texture: ensure you use the right tone and soft texture for artificial flowers and plants. As much as people do not want real ones, artificial plants should give them the same feelings and emotions as natural plants. The essence of replacing something is to use one better than it is. So the color tone and texture should feel the same when they see an actual plant.
Types of plant landscapes
Plant landscape is also known as plantscape. This involves reasonable arrangement and choice of plant.
Landscape designs for natural plants can be adopted for artificial plant designs.
Line landscape involves placing plants horizontally and vertically to get a good view of them. People who also need a good ground level or above eye level use it to get the outdoor feel.
Aside from the beauty, the climbing landscape gives, its height provides a sense of solitude.
Hanging landscape design adds style when combined with lamp light. It is beneficial for buildings with high ceilings with simple or no designs. It is recommended for people who want to save space.
Wall-mounted landscape design can be used in place of random wallpapers for those who water a deep feel of nature. It also reduces noise impact on walls.
Best faux plants
There are many faux plants that one can incorporate designs.
Desktop plant: if you are going for a small plant, you should buy a desktop plant. It is used on tables in offices, restaurants, and sometimes on shelves.
Artificial topiary plants: for those who need a bold and elegant look, you should buy this. It is suitable for both indoors and outdoors. Its height makes it impossible to be noticed. For highlands, you should consider this.
Plant wall: if painting isn't your style, you can use a plant wall to create a unique design. It also serves as a form of noise blocker. To get beauty, it is advisable to use it on tall buildings.
Leave fences: you can use them outdoors to create an incredible feeling of nature. You can use it for occasions where you want the theme to be natural as possible.
Hanging creepers: Do you want to use artificial plants without taking up space? Then you should use hanging creepers. Hanging them on ceilings with a blend of light gives them a lovely look. For children's themes, it can be used to create a fairytale look.
Floral: Like the name, florals are flowers you can use for any occasion. You can use it as wedding bouquets or gifts or beautify the walls or tables in your homes or offices.
What to look out for when purchasing artificial plants
Below are the factors to consider when purchasing artificial plants:
Type: when buying a fake plant, it might be tempting to purchase attractive plants that can spice up the environment. You should always go for faux plants that look natural. Going for colors far from the existing natural colors defeats the aim.
Texture: ensure the surface gives the same feel as real ones when people touch it. Succulent plants are highly recommended.
Material: it is essential to buy plants with durable materials that can withstand wear and tear and other conditions such as climate change. Always note that materials differ based on where these plants are placed.
Size: when picking out plants, the size of the plant should match where you want to place them. They shouldn't look too intimidating or hardly noticeable. Consider the vertical and horizontal measurements when buying the plant.
Eco-friendly: it is also vital to ensure that these plants aren't harmful to the ecosystem. Each component used to make the plant should be completely degradable.
Design: choose designs that match the event you want to use them for. If it is a dark theme, use a dark theme plant—the same way for other themes. However, if you want to be creative and mix different themes, they should all form a great blend.
Installation: get plants that are easy to arrange.
Where to buy artificial plants
Artificial plants can be obtained from online e-commerce stores or, preferably, shops closest to you. You should do physical buying to inspect the plants and have various options. For a bulk buying job, you should buy directly from a company or wholesalers to save costs.
No matter your budget for buying an artificial plant, ensure it meets the criteria. Ensure any plant you buy has a warranty on it from the supplier. One of the secrets of decorating a home is adding a feel of nature. It brings the feeling of home irrespective of where people are. Following every step in this article will help you make an excellent choice in purchasing an artificial plant.