For someone who lives in apartments, balconies are where people spend a lot of time, like having tea and chilling out. How can people make the balcony more refreshing and calming? The ideal solution is that they can transform the average-looking terraces into gardens. For people who do not have time to manage their gardens, the artificial plant's concept will give them peace of mind. What they need to do is enjoy their precious time with their family.
Privacy greenery for the apartment balcony will protect people from neighboring eyes and onlookers from the public. Artificial privacy plants are great for the apartment balcony. They are adaptable to the balcony's weather conditions. They can be well-fitted into users' balcony's layout, such as space and type of railings, and the decor theme.
— Features of the balcony to consider
Before choosing artificial privacy plants, users need to consider the features of their balconies.
1. Space
The space of the balcony floor limits the size of the privacy plants. Consider the available floor space where can place the plants. Then, users will have a plan for the types and sizes of plants they want to purchase. And choose the containers that will work for the plants.
The desired height of the privacy plants will be an essential factor. There are various tall artificial plants available. But, users will be restricted by the density of the foliage. Consider what plants are and how big they are before buying the plants. Unlike natural plants, faux ones can always stay at the same height. It means people need to get the size right before purchase.
2. Type of railing
The type of balcony railing will influence the kind of privacy plants people want. For example, glass railings have total viewing exposure of the balcony. They will encourage people to buy bigger plants and pots. Then, they can provide a broader cover if the railing is metal. Users can take advantage of their ability to hang. Then, hanging planters will be an excellent solution.
3. Appearance
Appearance may be less critical than practical requirements. But it still matters. Most people want their artificial privacy plants to fit the overall decor theme. For example, artificial bamboo would look good in a jungle-themed area, whereas ivy or lavender are good all-rounders.
Artificial plants have the same benefits of privacy as natural ones. Moreover, with the faux plants, there's no need to think about the weather conditions of the balcony. Whether it's sunny or raining, the faux plants will survive all! They do not produce pollen and have no smell. So, it means users can enjoy the balcony without the worry about a potential runny nose or itchy eyes. They are also cost-effective over the long term. There will be no cost for their maintenance. Users just need to wipe off the leaves when they start to gather dust.
— 8 Easy Decoration Ideas for Balcony Privacy in 2022
The artificial plant is a kind of introduction to the outdoors. Right plants are an excellent way to mark transitions from inside to out. They can also help to cancel noise and create some more privacy. How can people living in apartments with balconies make the most of the patio with artificial plants? Here are some easy tips below.
1. Utilize the wall space with artificial plants
It is necessary to think vertically for a small space outside the home. The more people can add to the wall space, the cozier the area will feel. Even in large, open rooms, people will feel cramped when the furniture is all low. The aim is to help make the space feel bigger, even if the balcony is tiny.
Artificial plants are a great idea for doing this. Users can cover boring walls and add interest higher up in the space. Artificial plants will be the best choice for a small balcony or patio. Natural plants may outgrow small wall planters or plant pots. So, the small balconies and terraces are unsuitable for most live plants unless they have a green thumb. Below are some of the best wall planter tips.
People can find various metal planters, from small squares to diamonds and triangle shapes. Users can hang the chosen grid planter high enough up. Fill the pots with artificial plants, such as artificial trailing plants, cacti, and succulents. It will look like a piece of art.
People can install hanging baskets if covering the entire wall with greenery is too much. Hanging baskets of natural flowers or plants is hard to care for. And, they can only look good for some part of the time. Artificial hanging baskets will look lush all year. And, there will be no need to worry about getting up there to water them. It is a great way to give a green-wall effect. Fill the baskets with artificial foliage with different colors and textures according to personal preferences.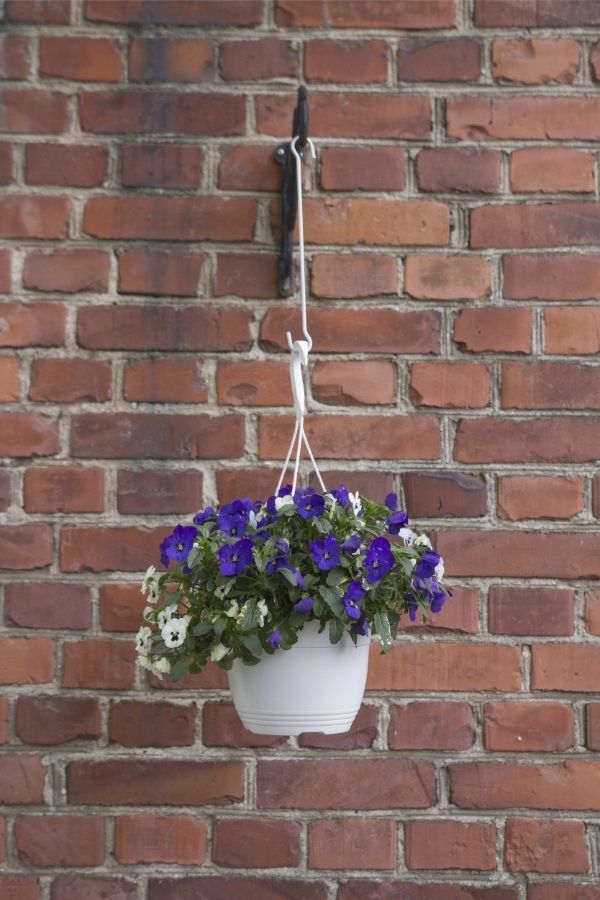 Suppose users want to style a small balcony with a roof overhead and open sides to the neighbors. They can try hanging artificial hanging baskets from the roof above with hooks. These baskets will break up the line of sight and give additional privacy.
Utilizing artificial hanging baskets in front of the window can draw the eye away from the window itself. Place some small artificial succulents and other plants to decorate the baskets. Users can even hang fairy lights between the baskets to create ambiance. People can also use macrame in various sizes to hang the baskets anywhere. There are many choices for hanging planters. People can also use macrame in multiple sizes to hang the plants anywhere.
2. Use Beautiful Privacy Screening
Small spaces often lack privacy, as people often have close or overlooking neighbors. The key is to choose the proper screening. It can elevate the area and not look offensive to the neighbors. And it can provide users with enough cover to feel comfortable. Below are some of the best options for privacy screening.
Trellis covered with artificial foliage
People can fix trellis on the balcony and tie artificial plants to it. It can give people more greenery and space. The artificial green wall panel is one of the ideal solutions. It can be a great divider between the balcony and the neighbors.
Taller artificial outdoor greenery
Taller plants can create a perimeter of privacy around the balcony. The great thing about using artificial greenery is that users don't have to worry about whether the plant will grow too tall. People can get a perfect size every time. Choose taller greenery, like artificial bamboo, to create a private space.
3. Try a tabletop plant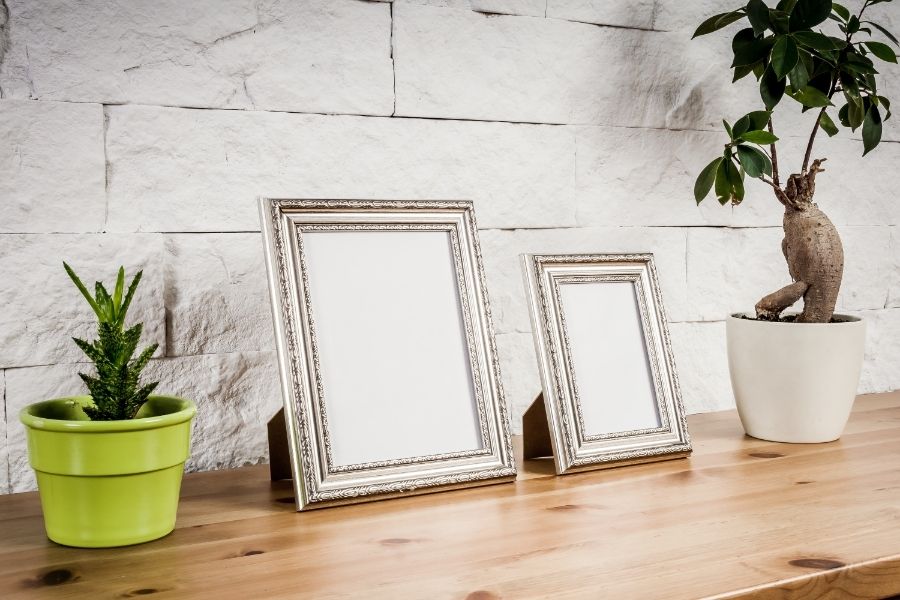 Small tabletop plants on side tables might be all people want. It is a great balcony decor solution. And, it can bring a little greenery into what's often a very small balcony. An attractive artificial arrangement on the balcony table brings life and color to the space. Artificial plants and flowers work great when people decorate corners or tables. Keep these plants outside the balcony. They will give a colorful look to the area. It will be better to choose a shorter arrangement. So people can see across the table without having to move the arrangement.
4. A small corner shelf
People don't have much space to waste on a balcony. A storage shelf makes a presentation area for artificial plants and flowers. It will make use of the vertical space that might go unused. People can install shelving and add interesting items such as small potted plants, decorations, and ornaments. The artificial succulent is always a great solution. They look cute and natural. Place them on the corner shelf. It will be an excellent choice to brighten a dark area.
Multi-Tiered plant stands are often affordable and bring a modern look. If the space on the balcony is limited, people can consider only filling some of the shelves with artificial greenery. And, people can put drinks and other things on the shelf when they sit nearby.
People can also grab some pretty artificial flowers and twine them up a ladder. Put the ladder against the wall and see how attractive it seems! It will be a perfect idea with faux plants on the ladder. There is always a wire connection hanging on the wall entering the balcony. People can use artificial creepers to cover them to avoid this unwanted look. It will bring a natural and pleasant look!
5. Heavy Cement Planter
The type of artificial plant vase, basket, or planter people choose is essential. Planters with enough weight can hold the plants in place no matter the wind, rain, or other conditions. A heavy cement planter is the most popular solution for artificial condo balcony greenery. Cement planters are durable and environmentally friendly investments. They are heavy and able to withstand all kinds of weather. And people can find various cement plants in many sizes, from small ones with succulents to large ones with trees.
6. Keep plants out of view.
Each one does not want to block the view for condo balcony decoration. So, the furniture, plants, or everything else will be up against the building or on the sides of the barrier. People do not want anything obstructing the beautiful scenery on the balcony. So, keep the plants and furniture simple. Greenery should not feel like they're in the way. Flush with the wall is best if plants are in a freestanding planter. Another critical point to remember is safety. If there's a BBQ or candle lit, don't have any artificial plants within arm's reach.
7. Use different-sized and colored containers.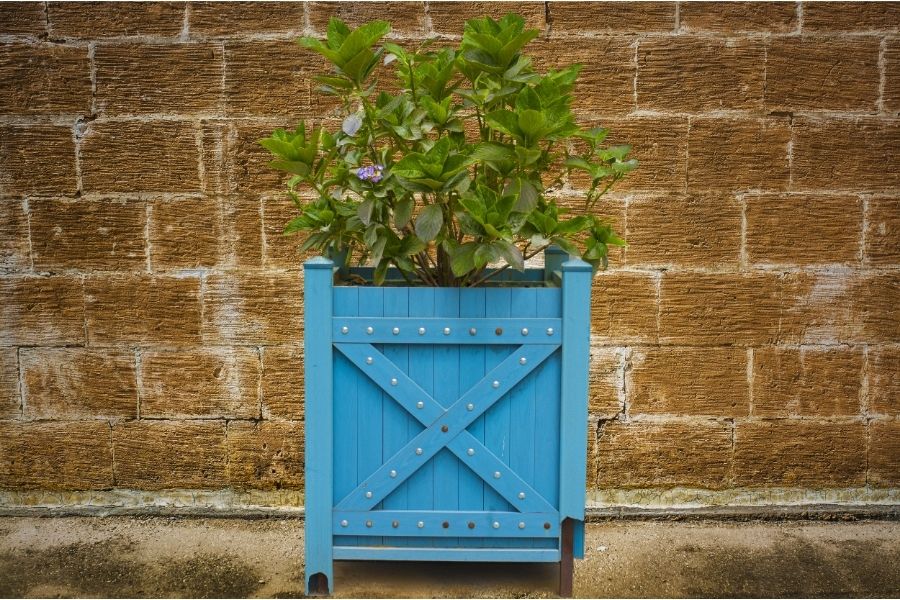 Create contrast by using artificial arrangements by varying the size of the containers. Group three or four containers of different sizes in the corner of the balcony to create an attractive focal point. Artificial plants that come in containers of various sizes stand out. The container is a part of the decoration of the plant itself. Potted artificial plants of different sizes can create an attractive display. Potted artificial plants with colorful containers will add some whimsy to the balcony. A bright-colored container can brighten up the space. With faux plants, people will find a lot of calm, balance, and harmony. It is a way to help relax this space and personalize it for users.
8. Frame the external door with artificial greenery.
A great solution to make a small balcony feel bigger is to "start" the balcony inside, just inside the doors. If there are artificial hanging baskets just outside the door, people can add some large artificial plants just inside the entrance to create a sense of flow. With the door open and lots of greenery inside and out, people will forget how small the outside space is! A small balcony doesn't mean people can't have a beautiful outdoor area. It depends on how people decorate the patio. People only need to be savvy about how they design it and ensure it's a place to enjoy.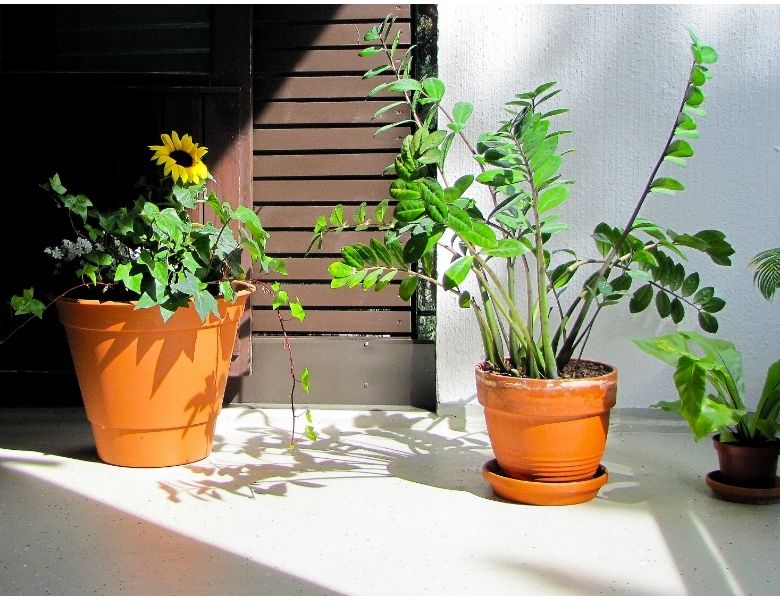 The problem with many balconies is that they are sheltered from the sun for much of the day. This can make growing plants hard, but that shouldn't stop people from decorating their balconies. People can choose artificial colored flowers and plants as an alternative. Artificial greenery will look stunning all year round, making it an ideal solution to transform the balcony.
We were selected by Redfin as a top design expert! See the article we were featured in: Small Apartment Balcony Ideas: 10 Tips for These Tiny Spaces