The artificial green wall comes in various sizes, shapes, and uses. There are multiple options for people to choose from. Someone wants a decorative faux green wall. He will find an attractive product. Someone wants an eye-catching display for the workplace. He can find affordable products. Someone wants a high-impact feature for a commercial project. He can also find the perfect products. The low-maintenance wall panels will keep green for years to come.
— What is an Artificial Green Wall?
The artificial wall panel is a vertical garden system. Producers make the wall panels with interlocking fake plants. People can assemble them to look realistic from a natural sprawling vertical garden. The artificial green wall is pieced together in small sections. They can create a lifelike wall of greenery. They are low-maintenance and long-lasting.
These small section panels make it easy to customize the shape and size of the wall. Users can tailor them to fit their space. They can put them together by fixing the back of the panels to the wall surface with nail plugs or screws.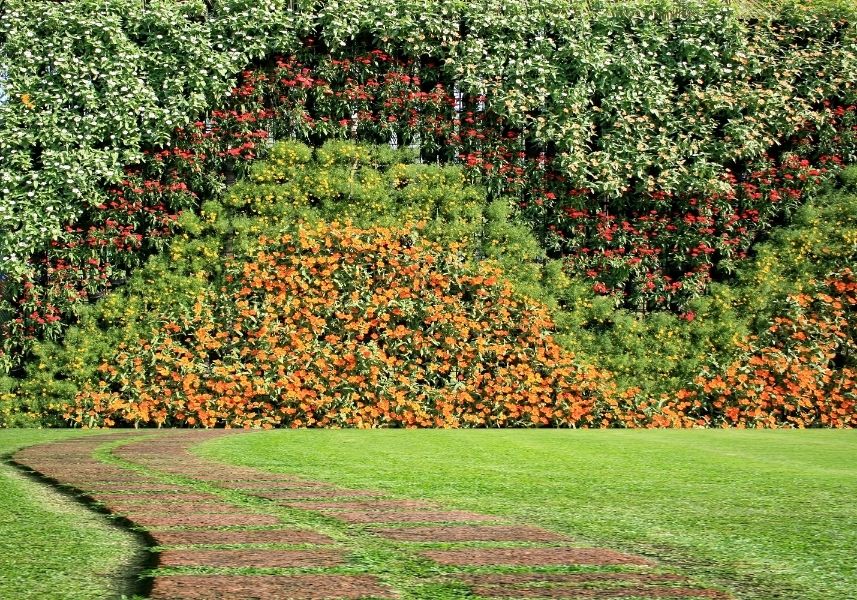 The artificial wall panel is perfect for adding a natural splash of color and an exciting feeling. If the producers use premium replica foliage to make the artificial wall, they will be realistic and long-lasting. And it is easy to handle, transport, and install them. Cheap faux panels will leave the wall panels looking fake and lead to a replacement in a short time.
— What Is the Artificial Green Wall Made of?
The artificial green wall combines the advantages of natural and green plants. We can call it a vertical garden and plant walls as well. The materials of the wall panel can be artificial plants or living plants. Unlike natural plants, artificial plants do not need time and water for growth. And users can install them in a simple way. The backing of the wall panel is sturdy. They can attach to various vertical surfaces. Most artificial panels have a frame made of plastic or steel.
The material of the artificial wall panel will depend on the type and quality of the products. The material of cheap artificial plants can be a combination of plastic, silk, and paper. The raw materials for sound artificial green walls are UV-tested and flame retardant. Thus, they can stay beautiful and green for years to come. Most wall panels are fire certified, making them a safe addition to the home and commercial areas. The structure of wall panels can be any material. The coated metal is popular due to its strength and longer life.
— Different Uses of Artificial Green Wall.
The best thing about artificial wall panels is that people can place them anywhere. Someone wants to decorate their home or office with live plants. Then, the choice of location is crucial because each element needs to meet the plant's growth. Artificial wall panels can attach to walls inside or outside residences or commercial buildings. Users can install artificial green walls on any existing wall.
Artificial wall panels have more creative and modeling features than natural plants. Users can place them indoors and outdoors. The green wall with UV resistance materials is suitable for outdoor use. They will stay natural and fresh year after year.
The artificial green wall is now a huge part of interior design. There are many various arrangements and styles to choose from. More and more business owners choose faux green wall panels. They don't need watering and won't fade. They are also fire-retardant with low maintenance. Here are two examples of using the artificial green wall in the office and restaurant.
1. In the office
There are so many advantages to using artificial green walls in office space.
l They can create a sense of calm.
People like to surround themselves with calm and peace during these uncertain times. Introducing some design elements into the workspace can reduce anxiety and stress. Surrounded by trees and plants, people will feel calm. Installing artificial green walls can create that effect.
l They can boost productivity.
Interior design will have a significant impact on productivity. A light and nature-filled workspace will increase productivity. The artificial wall panel is one way to introduce a biophilic design to the office. These plants will lift workers to help them get on with tasks during coronavirus.
l It is a simple and effective office design.
We are going through a global pandemic nowadays. People do have not only mental health pressures but also financial difficulties. Businesses will count every penny for the design of the office. The artificial wall panels are not expensive and easy to install. So, they can reap many of the above benefits.
l They can reduce noise levels.
It will be a surprise for you to learn that the wall panels can act as a natural sound buffer. They can absorb noise and help to reduce the noise level. They are perfect for large open-plan offices. These plants will create a more natural working environment with reduced background noise.
2. In a restaurant
Below are some points about how the artificial green walls help the restaurant.
l They will attract new customers.
People all need a mental lift and feel better about themselves. The restaurants that incorporate nature in their design will appeal to new customers. They will help to attract new diners.
l They can create an outdoor dining experience.
People all love to sit and eat surrounded by nature. The outdoor dining experience is getting more and more popular at the moment. Users can use artificial green wall panels to decorate their restaurants. These artificial plants will help to create a sense of outdoor dining.
l They can create a relaxed dining experience
In the restaurant, the greenery will help to create a feeling of calm and relaxation. Diners will enjoy their eating while looking at plants and elements of nature.
— Types of Green Wall Panels
When designing the artificial wall panel, the choices may be endless. The thick foliage can create a lush garden effect. The artificial boxwood will bring a modern look. The combination of artificial greenery with flowers is refreshing.
Someone wants to fill their green walls with faux photinia to create peaceful spaces. Someone wants to create a collection of multi-colored leaves to inspire their life. The materials of the wall panel are UV resistant and flame retardant. They are perfect for indoor and outdoor use. There is a diverse selection of green wall panels to choose from. So, everyone can get the exact aesthetic they want. Here are some of the options.
1. Artificial Ivy Panels
The artificial ivy panels look like older mansions with the sprawling ivy climbing the sides. They can lend a touch of elegance to the space. People can use them inside to create an elegant dining area. And we can also use the panels to spruce up the siding of fencing. The outdoor ivy panel is a quick solution to building a privacy wall. And, there will be no hassles and time investment with the natural plants.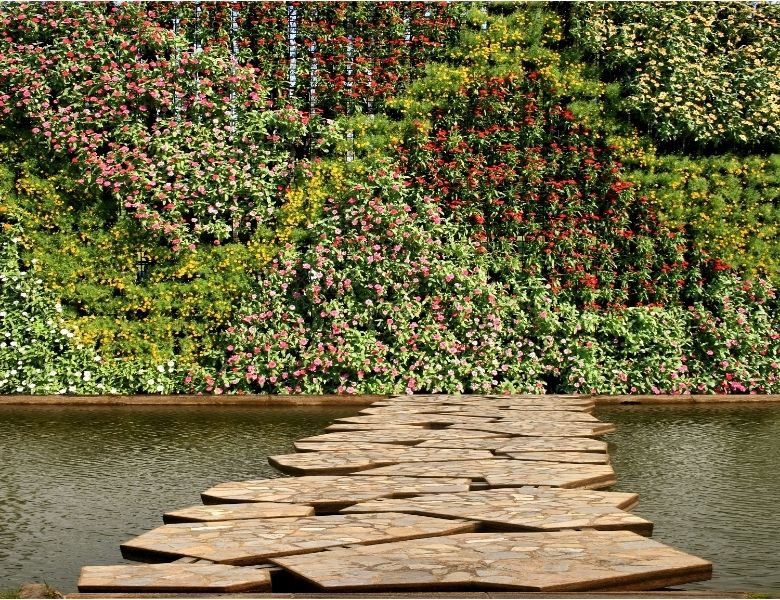 2. Artificial Gardenia Panels
The artificial gardenia panel can transform any space into a forest grove. They can be complete with tiny flowers and varying green tones. The gardenia panel walls make the areas look like a fairy-tale setting.
3. The Paradise Panels
Are you looking for some more tropical greenery? The paradise wall panel consists of a mixture of multi-colored leaves and petals. They will look the same as the flora and fauna you'd expect to see on a tropical vacation.
4. The Cascade Panels
The cascade panels with lush leaves and branches tie with other green wall panels. Users can combine these wall panels with natural accents like salvaged wood and flowering plants. They can give the space a modern facelift.
— Why Should You Choose Artificial Green Wall?
The artificial wall panel is the hottest design trend in residential and commercial settings. They are eye-catching and fantastic looking. These green walls look no different from the natural plants. So, you may wonder why to choose these over wild plants. The Artificial wall panel boasts many benefits that actual plants can't offer.
1. They are suitable for various environments.
One of the most significant benefits is that these plants are versatile. People can use them in any room of residential and commercial properties. Users can choose various colors and styles to install the artificial green wall. There will be a wide range of options for clients. So clients will always find a solution perfect for their needs. People can place them indoors and outdoors. The artificial wall panel makes for a fantastic inclusion in any place.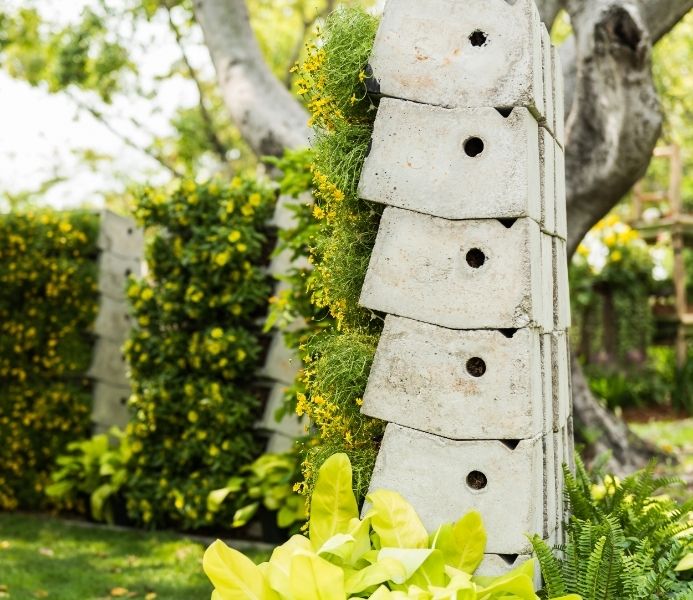 There will be no limitations when it comes to temperature or seasons. Users do not need to worry about whether the plants can survive in a different climate. The world around will not affect the green wall panel. They are not just attractive additions to the property. They can also be a helpful privacy screen to shield the garden or workspace from prying eyes.
2. They will be long-lasting.
With premium materials, the artificial green wall is durable and capable of looking its very best for many years. The realistic faux plants are UV-resistant and waterproof. It ensures they will not fade when exposed to the sunlight. Thus, they will not be wilted by extreme climate. Whether it is strong winds, heavy rain, or snow, the artificial wall panel will always be fantastic.
3. They will not cost much.
With little maintenance, the artificial vertical wall makes for a very low-cost addition to the space. There is no need for regular care. So users can reduce the costs of the regular gardener to keep them in shape. With the benefits of durability, users do not need to replace them for several years.
The artificial wall panels cost less than the vertical living plants. With this lifelike greenery, there are perfect sizes and shapes for the space. But natural plants always need UV light to thrive indoors. Existing plants also tend to drip down the walls and onto the floors.
4. Natural looking.
Some people do not want to use artificial plants because they look fake and plastic. Nowadays, these faux plants are very realistic and natural looking. Many people can not tell the difference until close examination.
Using the artificial green wall, people can enjoy a lush and realistic plant wall. Moreover, they will look the best all year round. With artificial wall panels, people do not need to worry about dying without proper care. They will not face lengthy waits while they bloom. These artificial plants come looking their absolute best year after year.
Artificial green walls have become popular because of the warm and cozy feeling they bring. They look natural, and they are pleasing to the eye. They provide an immediate sense of serenity like natural plants. Not only do they look great, but their constructions bring a layer of insulation to the walls. Thus, it can keep the places at a comfortable temperature through the winter or summer.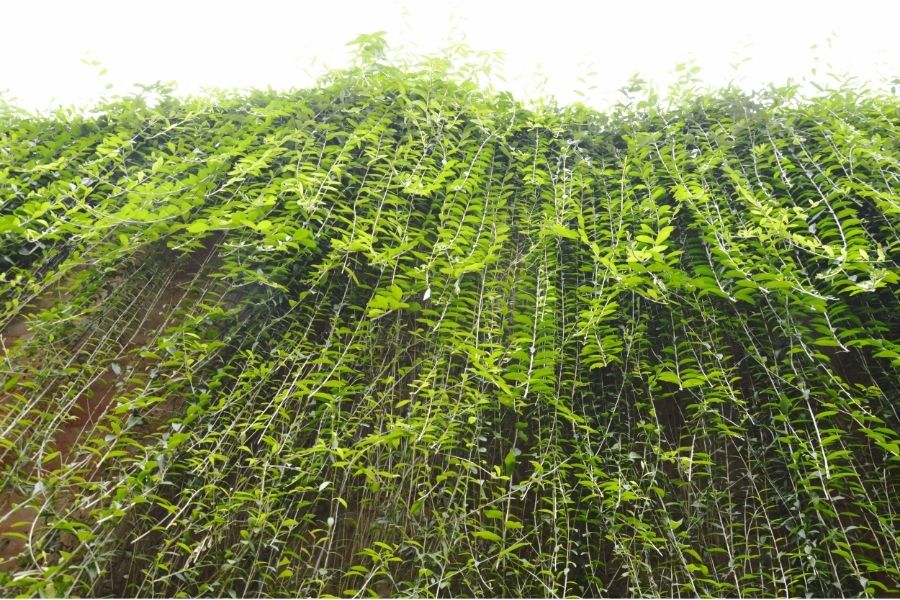 5. They need low maintenance.
Another advantage of artificial wall panels is the low maintenance. As we all know, natural plants need regular care, watering, and pruning. The artificial wall panels only need quick dust to ensure their good looking.
Natural plants also require light and trim. The artificial green wall does not need them at all. Users only need to hang them up and enjoy them. The faux wall plants will not grow and change shapes. Users will also not worry if the plant is receiving enough sunlight. There will be no worry about dead leaves or loose soil falling to the ground.
6. They can boost mood.
People love living plants because of their calming and mood-enhancing properties. Artificial green walls might not cleanse the air like natural plants. But, studies have shown that faux plants can provide the same relaxing properties.
Artificial wall panels are also a healthy addition to boost mood. They are non-toxic in their construction. Moreover, people with allergies will not experience any reactions to faux plants.
With artificial green walls, users will not face the risk of an infestation from pests. As we all know, pets may destroy living plants. Users will also face fewer insects buzzing around in the summer. These plants also can act as excellent absorbers of noise. They can help to reduce the impact of traffic. And, the visitors will not be disturbed when visiting the places surrounded by artificial plants.
Artificial green walls bring the beauty of nature into residential or commercial areas. With these vibrant panels, users will create gorgeous accent walls for their space. They are the ideal solution for any circumstance.