A lot of customers ask us what are the best outdoor artificial plants in different weather conditions. We always recommend a few different types of plants. Today we want to focus on six hanging plants that do well outside.
These six options are all great choices for anyone looking to add some greenery to their outdoor space. And they do not have to worry about maintenance or water. Keep reading to learn more about these amazing options!
Artificial Ficus Plants
Ficus plants offer a great way to add some greenery to the outdoors. Not only do they look great, but they are hard enough to survive even in harsh climates.
These plants come with realistic trunks and leaves. They will not fade in the sun or wind. In particular, its artificial hanging ficus varieties make it easy to hang them from a variety of locations. You can hang them from trees or walls to create an even more dramatic effect. You can also place them on pergolas, arbors, or patios.
Artificial ficus plants require little maintenance and last for many years outdoors. They are ideal for those who may not have the time or resources to care for a living plant. As a bonus, they will never grow too large or out of control. They can stay put in your chosen spot. And they will look great year after year.
Artificial Fern
An artificial fern is an ideal hanging plant when selecting one to thrive outdoors. It has lush, thick foliage and long-lasting vibrant green color. This type of plant can survive the forces of nature with no effort required on your part. If you hang these around your garden or balconies, these faux plants will elevate the beauty of any outdoor living space.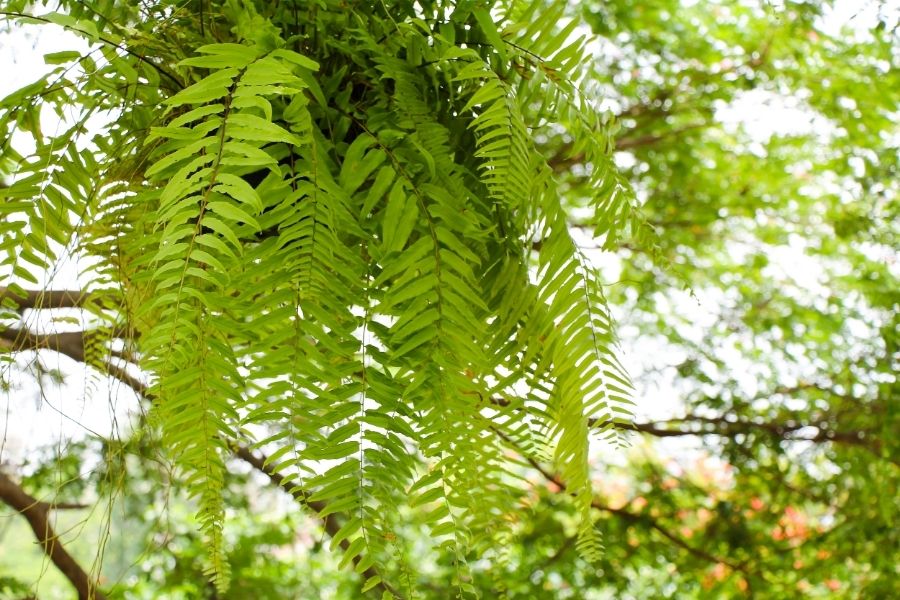 An artificial hanging fern is an excellent addition to any homeowner's outdoor area. This hardy, iconic fern is recognizable and has a delightful, natural look. It is one of the most beautiful and longest-lasting artificial hanging plants.
Artificial ferns will thrive in full sun or partial shade. Its ultraviolet-protected leaves make it well-suited for outdoor use. Its foliage adds a touch of grace to any setting. This exquisite artificial hanging plant could last for years with little care and maintenance. It will allow you to enjoy its lush beauty for much longer than expected!
Artificial ivy
Ivy is one of the most popular plants when it comes to hanging baskets. It looks beautiful and can brighten up any space. Luckily, you don't have to water or prune ivy anymore with artificial ivy!
This artificial plant has realistic leaves and flexible stems. It allows you to create different shapes. You can hang it from trellises and balconies or wrap it around poles and columns.
Artificial ivy is very durable and UV-resistant, making it perfect for outdoor use in any weather condition. It requires no maintenance whatsoever except occasional dusting.
Devil's ivy, known as Epipremnum aureum, is a well-known easy-to-care-for artificial hanging plant. Adding artificial hanging ivy to outdoor spaces is the perfect way to bring extra beauty and joy.
Artificial String of Pearls Plant
The string of pearls plant is a unique and distinctive artificial hanging plant. It has long, trailing stems with round pearl-like foliage that looks realistic. You can hang them from walls, trellises, or balconies to add some vibrancy.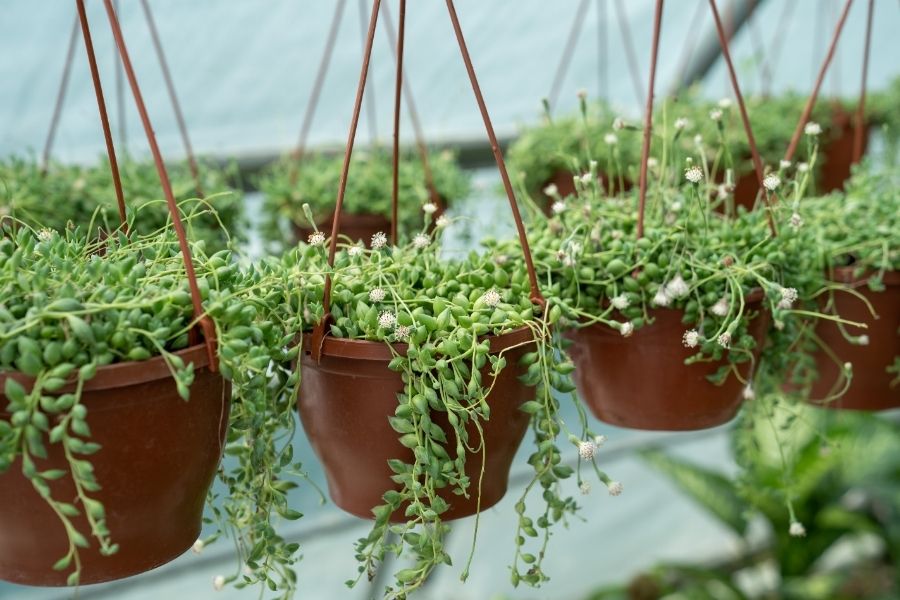 The artificial string of pearls plant is UV-resistant and highly durable. It does not require a lot of care or maintenance. Just dust it off occasionally to keep the foliage looking vibrant and fresh.
This unique artificial hanging plant will be a beautiful addition to any outdoor space. It will add an instant touch of greenery with its realistic foliage and trailing stems. It will be a focal point of your outdoor living area that everyone can enjoy!
Artificial Pothos plants
Pothos plants are a popular artificial hanging plant choice. They have glossy leaves and trailing stems that look natural. You can hang them indoors or outdoors, depending on your preference.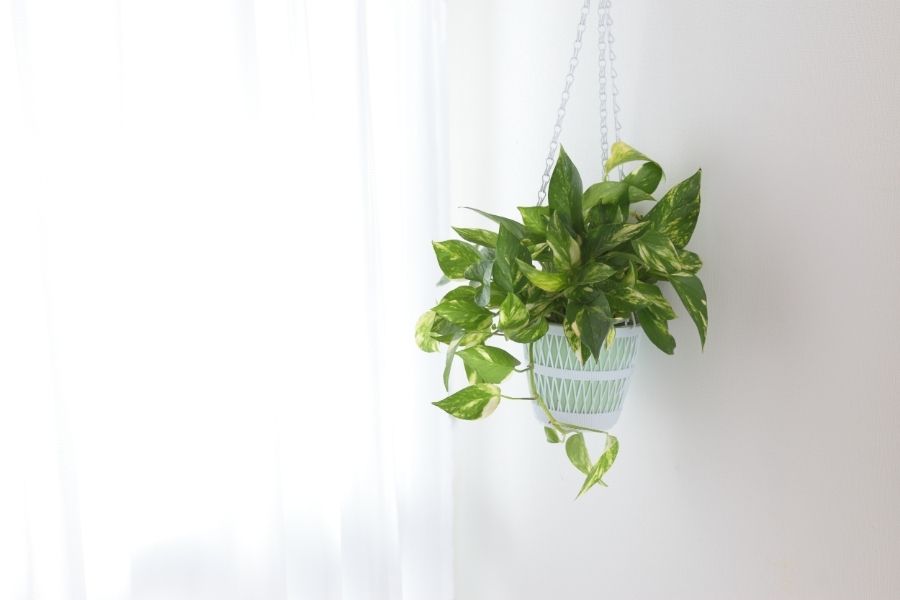 They require minimal maintenance and can last for years without fading or degrading. These gorgeous plants will add a touch of life to any outdoor area. Their distinct foliage will bring instant brightness to any space without watering or pruning!
Adding an artificial pothos plant as a hanging plant is an easy and economical way to add greenery to outdoor space. You can be sure that these plants will remain vibrant and healthy for years to come.
Artificial Spider plant
Artificial spider plants make it easier to display them in your outdoor space. They have bright green leaves and look realistic. They have long stems. So you can hang them on walls or balconies with ease.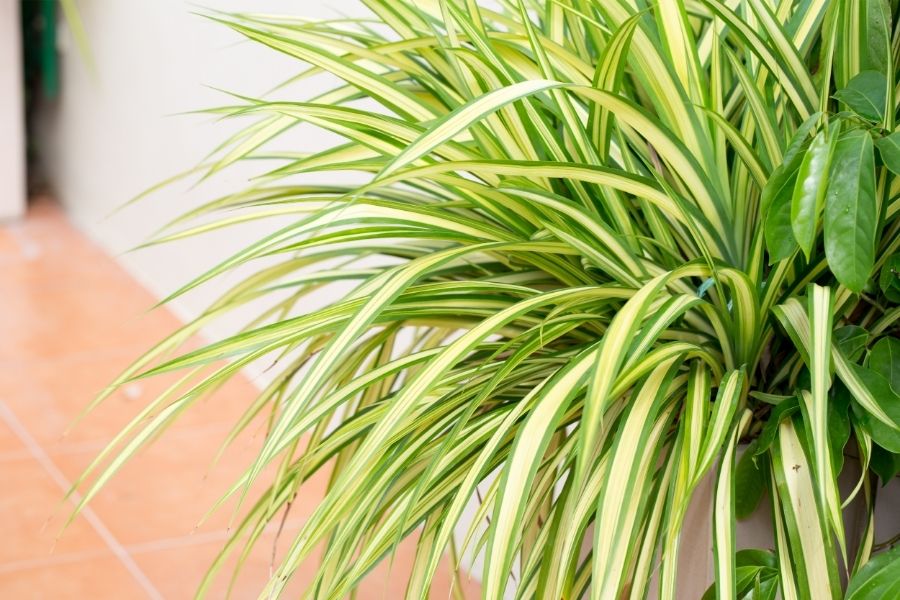 These plants are very sturdy and UV-resistant, so they can withstand the elements of nature. They will add beauty and color to any outdoor space without needing much effort on your part. Just dust it to keep the leaves looking fresh and vibrant.
Artificial spider plants will last for many years, and you won't have to worry about them growing out of control. They are sure to bring an eye-catching focal point to your outdoor place.
The artificial spider plant may be the perfect choice if you are searching for an easy-to-care-for and attractive hanging plant. With its signature spider-like shape and draping leaves, the spider plant stands out among other hanging plants. This variety of artificial plants can tolerate almost any condition outside. So they are much easier to keep than their living counterpart. Moreover, these plants are exquisite conversation starters that can attract admirers from near and far.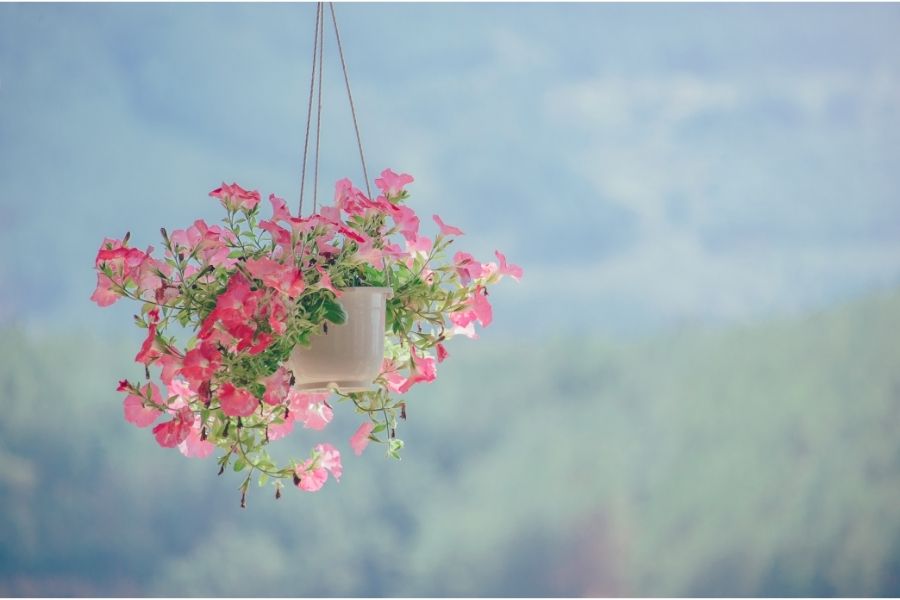 It is beautiful and rewarding to see that you have made a world of difference with these plants. Plus, you don't have to worry about their upkeep. All you need to do is enjoy their beauty for much longer than expected!
In conclusion, outfitting outdoor spaces with artificial hanging plants can never go wrong. They are a great way to bring life and color to outdoor spaces. With just a few different types of artificial hanging plants, you are sure to bring the right kind of energy into the outdoor space.