Find out ten surprising facts you might have never known about artificial vertical gardens.
It's no new information about what art of beauty an artificial green wall can bring into space's ambiance. It's also not a surprising fact that artificial vertical gardens are way more beneficial than natural ones (at least I have tested and confirmed). However, there are still so many interesting facts that may not know about these greeneries.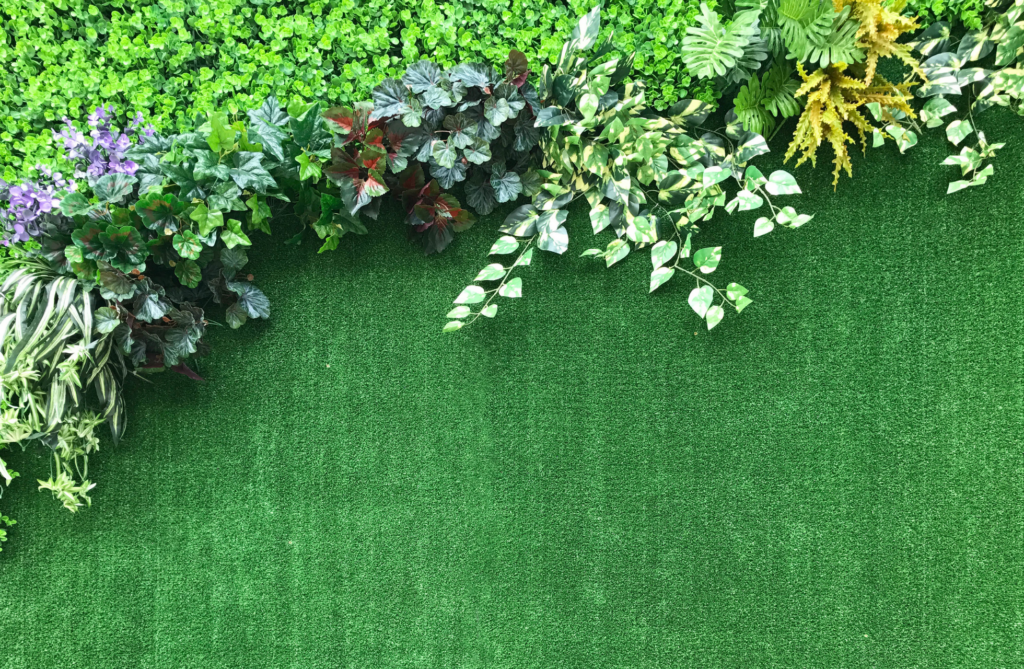 So, here in this blog post, I have compiled an easy-to-comprehend list for you. It will contain some facts that you will find interesting about artificial greenery. I hope you learn something from it.
Fact one: Artificial green walls are sound insulation systems
Not just are the artificial green walls of good aesthetic value, but they are also suitable insulating materials. Yes! That's a fact! They help prevent the transmission of heat, sound, and even electricity.
The recent designs of these vertical gardens have been confirmed after various experiments to show that buildings with artificial green walls tend to be calmer and more comfortable than those without them. This is because the greeneries are suitable eco-conscious materials.
So, if you plan for a building with lesser heat radiation or a facility with a high source of heat, opt for green walls to step down the effect.
Fact two: Vertical gardens are soothing to the mental health
The sight of greenery around an environment tends to make the inhabitants feel calmer and more relaxed. It is also excellent at relieving mental stress from strenuous activities and the congested nature of the urban areas.
After research conducted at the University of Aarhus, it proved that children raised and exposed to a certain amount of greenery were not likely to suffer from any mental disorder such as anxiety and depression. While in the reverse case, the opposite happens.
So, with this effect, it is recommended that children and adults alike are exposed to some amount of greenery. Also, workplaces should try as much as possible to implement such in their workplaces.
Fact three: Artificial green walls have good acoustic perks
Apart from being a source of thermal insulation, the artificial vertical gardens can also act as insulating materials in terms of noise collection. They prevent the transmission of unwanted or external noises; therefore, are great tools for improving privacy.
The leaves of the green walls (either natural or synthetic) can absorb unwanted noise from external sources. Hence, they can act as insulating walls.
Buildings and large city corporations usually make use of these greeneries to retract the noise from outside, such as road traffic. This creates a notable difference in the surroundings and creates a quieter working environment.
Fact four: The colour green is proven to be the most restful and tranquil colour to the sight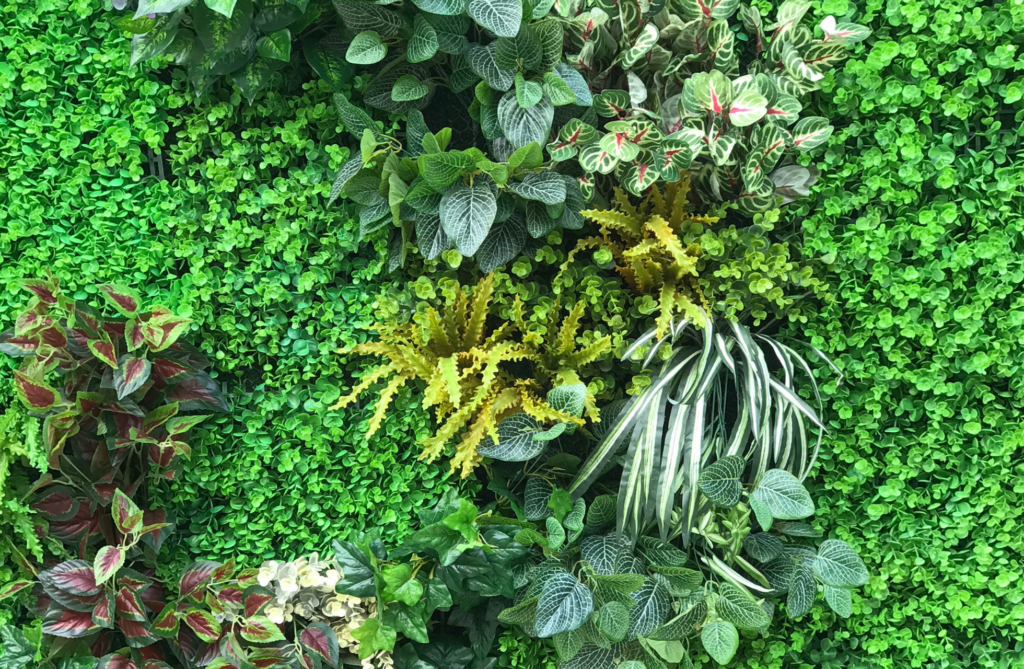 On the colour chart, green cited in the middle. You might wonder what that has to do with the benefit. But, yeah, it has a lot to prove.
Because our eyes have to detect the color wavelength for our brain to differentiate the color, the wavelength has to be easy to perceive. Some exceptionally bright colors like red and orange are a bit stressful for the eyes to detect. But, green is pretty easy as viewing it is calming to the eye.
So, what difference would that make to us when we see the relaxing color in our environment? It would be a pleasure! So, we need to be surrounded by this natural color.
Fact five: The artificial green wall does not require an irrigation system
Although the real green walls still hold a place in our hearts for being a natural and living alternative, we still love to pick the artificial ones over them. Why? It is more costly to care for them compared to the synthetic counterpart.
The real green walls require a strategic system put in place for irrigation which is very costly. Meanwhile, artificial green walls do not require this. They are easy to maintain and do not need any more future maintenance costs.
Therefore, if what you are after is a convenient and cost-effective design for your wall, artificial vertical gardens are the best.
Fact six: Not just anybody can install an artificial green wall
I know it has been going around that artificial green walls are easy to install. Well, yeah! That is partly true. It is easy for a professional to install. Don't mix up the fact.
This is very important. You need to hire an expert to carry out the installation for you. As easy as it may seem, there are lots of procedures and precautions to be taken when installing one. The metal frames need to careful handling. The patterns of the leaves will need to be maintained. The structure requires secure mounting on the wall. The expert does this.

Fact seven: You can bid the landscapers farewell
Who would need the landscaping partners when an artificial green wall is in question? Absolutely no one! So, let's say goodbye to them.
The living green walls will need expert gardeners for regular care and maintenance. This is usually continuously handled by the company that initially installed them, and this incurs additional expenses.
But with the faux vertical gardens, you would need no heavy maintenance. No hassle, no downtime. Just at your pace.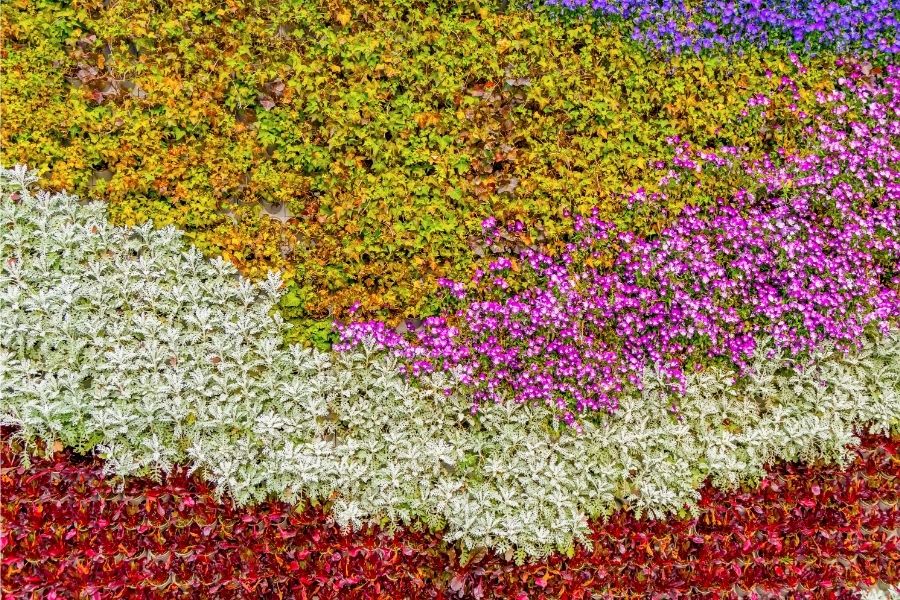 Fact eight: There are unlimited options to pick from
You don't have to be bothered about running out of options with faux green walls. There is a variety of types available and ready for immediate display.
For the real living walls, the manufacturers may require you to wait for some weeks for your preferred plant type to flourish and bloom before they are ready for display. However, the faux counterparts are always prepared from the fabrication room: no need to grow or bloom. You can just order them and install them immediately.

What type of plant do you want? Is it the boxwood, succulent, moss, Ivy, ferns, or whatnot? They can easily be made for you. There are no specific conditions you need to meet, just purchase them.
Fact Nine: Your space will be free from a fire outbreak
Most carefully produced faux plants are blends of some chemicals that make them fire retardant. Therefore, you wouldn't need to bother about them contributing to a fire outbreak.
This means that they are suitable for both indoor and outdoor use without putting a compromise on safety. All you need to do is ensure that the plant you purchase is specified to be flame retardant.
Fact ten: Faux vertical gardens are very durable
High-quality artificial green walls will withstand extreme pressure such as sun, wind, snow, and rain. This means that the producers designed them to last for an extended period.
These premium quality products usually undergo a test to be UV resistant. This will also mean that they do not fade or discolor easily. They stay lush and new for years to come. This is what I mean by durability.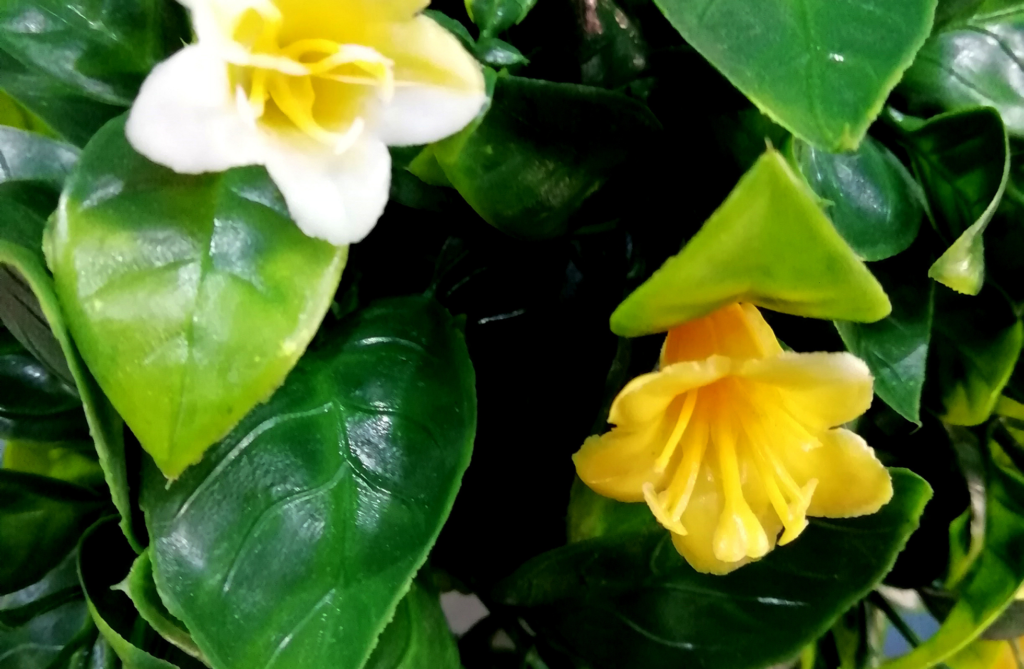 Final words
There are more interesting facts to know about these green walls. However, that would be all for the course of this article.
You can find out more by carefully studying these greeneries. Just take your time on it.
If you have additional comments or questions to ask me, you can drop a note in the comment section anytime. Thanks for reading this post!