Read to learn the three significant steps in designing an artificial green wall.
In recent times, everyone seems to need a pop of nature's color and feel in their homes and offices' ambiance. This eye-catching feature appears to be the trendy décor idea. And I would definitely recommend it to you.
So, for this demand, I bring this article to you today. You want to design an artificial vertical garden in your home, office, or business building? Very well then, read this article.
This will contain the three easy steps on how you can design an artificial green wall. Follow me on this tour and learn along the line. Look further!
What you need to consider before designing an artificial green wall
Yeah, I know you are getting ready to jump into some designing phase. But, there are things to consider before deciding to go for the vertical gardens rather than the regular faux potted plants.
Therefore, you should chew these things over before you can go into designing the greenery. Carefully answer these!
1. Do I have enough space for the artificial green wall?
It's a good thing if you know that the larger space the greenery covers, the more eye-catching and attractive it will be. How large is your wall space? How much space do you want to cover? From the wall to ceilings? Or just the walls? That's up to you to decide. Figure out what space is available for you to install the artificial green fence before going further into any step.
2. What visual effect do I want to create?
This is also important. What do you want the vertical garden to look like? Do you want a wild look? Or just a simple classic? However, you're trying to create the effect; you need to choose the right one (I mean one that suits your décor style already incorporated in that space).
3. What is the design or style of the green wall I want to go with?
There are various styles of artificial green walls. Some are just made of a single faux plant type, while others are mix-matched plants of different colors and styles. This will also play a role in the visual effect.
The single plant style is usually made of a single color while the other is of different fancy colors.
4. What are the limitations of the space I have chosen?
Usually, when wall spaces are concerned, there might be certain limitations. Like how would the walled garden look if placed there? Too bulky? Or not noticeable? Sometimes, it might be too far to be paid attention to. This will also matter. So, figure out what limitations can affect your intended wall space.
Okay? If you have fully answered those questions, you should create a mental checklist and follow me onto the designs phase.
The three steps in designing an artificial green wall.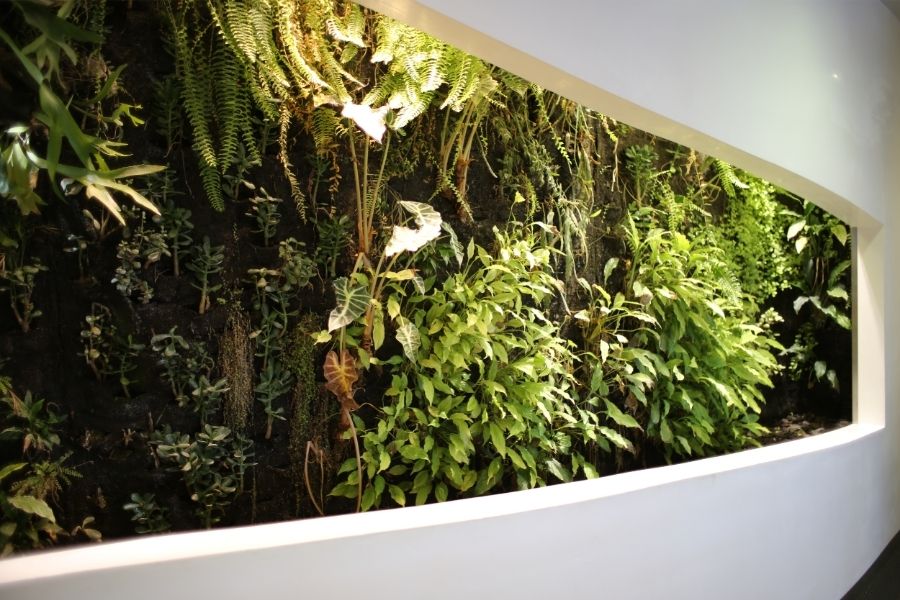 Okay! We are finally here. Now let's move onto working on your artificial green wall. The three simple steps are choosing a location, choosing the plant variety, and the installation process.
Firstly;
Choosing the location
Choosing the right location entails more than just picking a spot for the vertical garden. There is a lot more to that, including checking out for features that complement or complicate the design.
Some features like water bodies, great lighting systems, spacious rooms, oversized windows, and bright-colored paintings can complement the artificial green wall. They can help enhance the aesthetic appeal and make the greenery more beautiful. However, some other features might look good with the green wall. So, in choosing a location, you should look at the complementing features.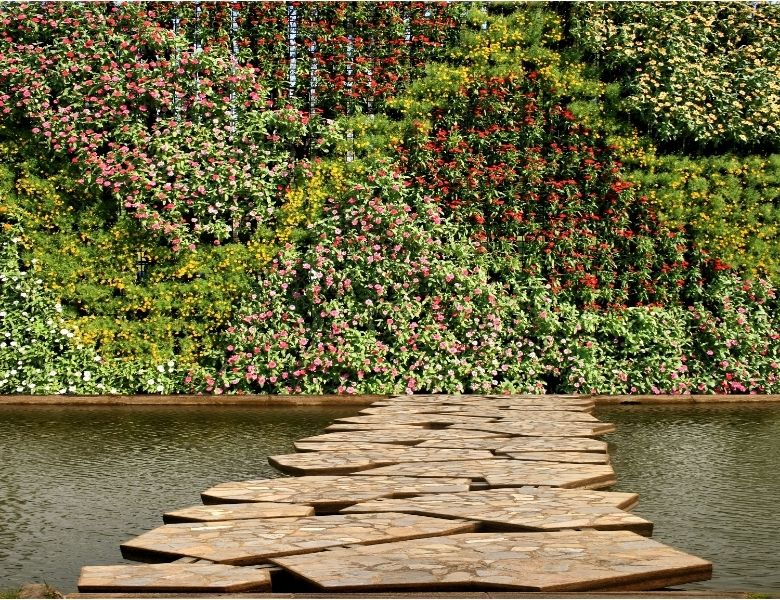 Another major thing to look into when selecting a location is "how close the greenery will be to where humans can get in contact with it." Good advice from me is to set up the green wall at a reasonable distance away from where it can be contacted. Why? If people often bump into the walls, it can reduce the vertical garden's durability and longevity. Hence, let it be placed away from contact damage.
A few meters so that ib becomes a backdrop should be preferable.
Next up is;
Selecting the variety of the plant
Good news! The variety of faux plants you choose does not increase or decrease the need for maintenance. (Unlike the real living green walls). This means that no matter the type of plant you choose as your artificial green wall, it does not affect maintenance.
The most appreciated benefit of an artificial wall is that no ongoing maintenance (pruning, trimming, fertilizing, and watering) is required. This applies to all the varieties of faux plants.
So, what plant do you want? You can choose the sample plant or mix them up to create a better visual effect. For a uniform look, make use of the mint or ferns; for a more distinct look, add splashes of color. The plants' types vary from ferns, moss, succulents, boxwood, ivy, and many more.
When choosing the plant type, ensure the plant panel's size is big enough to contain the plant. Also, select faux plants of high quality (either silk or plastic as the paper wears off quickly). Added advantages will include UV and fire resistance.
Choose the right supplier to get a better result!
Reviewing and installation process
When you completed the first two steps, then you are ready to install the artificial green wall. However, you need to consider the structural and functional requirements before you go onto the installation.
Is the wall strong enough to hold up the faux green wall? What do you plan to use to hold it up? Screws, pins, or nails? It would be best to choose a healthy and more secure means, so the green wall doesn't fall off suddenly.
Also, you need to hire professional help if you have never installed an artificial vertical garden on your own before. Many companies offer installation services. Even the company that supplies the green wall can also provide installation services. It would be best if you hired professional help.
Once you have reviewed the steps and answered all the questions, you're ready to design a befitting artificial green wall for your building.
Wrapping up
It doesn't matter what type of artificial green wall you have decided to design, either a classic or a wild one, mint-colored or splashy? Whatever it is, get creative and enjoy the outburst of your creativity.
Why not tell us what you have decided to go with. Got any questions? Drop a comment in the comment section below!
Enjoy your creative green wall.