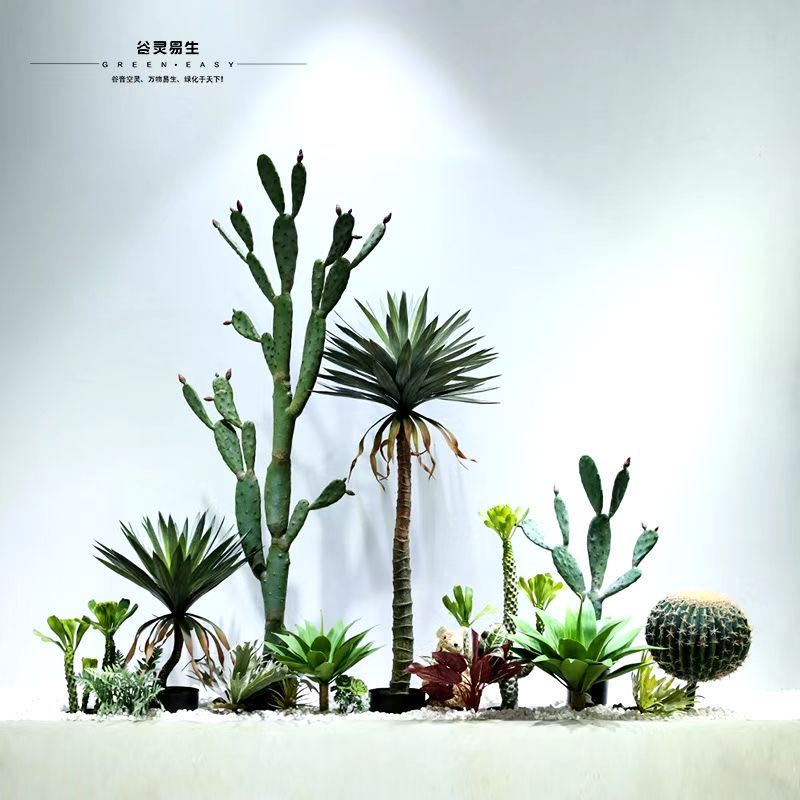 Artificial plants are gaining popularity in homes and commercial settings. For a business selling artificial plants, it starts with identifying a reliable supplier who will offer quality products and deliver your artificial plants on time.
To import from China, identify the type of artificial plants you need, then locate a supplier. Learn the quotation incoterms to ensure the efficient production and delivery of the artificial plants to your country on time.
Read on to find out why you should import artificial plants from china, the various types of artificial plants, how to find a supplier and the steps involved in importing artificial plants.
Why artificial plants are so popular
Artificial plants have grown in popularity over the last few years. They are wildly popular amongst millennials when creating beautiful interior designs.
One of the main reasons for the growth in artificial plant popularity is technological advancement allowing artificial plants to resemble real plants. It is almost impossible to tell the difference between natural and artificial plants.
Furthermore, artificial plants require no maintenance and will last far longer than real plants.
They are also highly versatile and ideal for residential and commercial settings to enhance the living or workspace.
People who are allergic to individual natural plants can still achieve the same effect with artificial plants.
Why import artificial plants from China
China is the leading artificial plant manufacturer in the world. It can produce life-like artificial plants at a low cost.
This means that you can import your artificial plants at a highly competitive price. Furthermore, this translates to large profit margins for your business.
How to import artificial plants from china
There are a few steps to follow when importing artificial plants from China.
Determine your budget
The first step to importing artificial plants from china is to determine your budget and how much you are willing to spend.
Next, determine the quantity you need to import.
Note that artificial plant wholesalers in china will offer a larger discount as your order size increases. They will also have a minimum order.
You will need to set aside $1000-$2000 to import your artificial plants from a Chinese supplier. This should cover the cost of both the products and shipping.
Determine your desired product
Find out the types of artificial plants you are looking to import. Learn about the different products on offer for you to make the best choice.
Main type:
Indoor Plants – meant to be placed inside residential or commercial buildings
Outdoor Plants –designed to be more robust to withstand weather elements.
Artificial plants can also depend on the type of plant. For instance:
Artificial trees – designed to look like a real tree, e.g., Christmas tree
Artificial flowers – designed to look like flowers and made from resin, plastics, silk, or fabric
Artificial succulent – designed to look like a succulent plant with thick leaves and stems
Artificial onion grass –designed to look like the onion grass
Artificial tropical plants – these can be various tropical plants such as artificial palm trees or banana trees
Artificial topiary – these are artificial bushes and shrubs.
Artificial grass – appears like a grass carpet designed for the outdoors.
Make sure to import unique products as many larger retailers will stock the most common products. The less common and unique artificial plants will give you an edge against your competitors.
This will help increase your ROI.
Calculate profitability beforehand
When importing artificial plants from china, you will incur several costs.
First off is the overall cost of your purchase. Depending on your order size, you can get a bigger discount per item. This helps increase your profit margin.
Secondly, there are shipping costs. If you choose international express, you will pay a shipping fee of $6 or $7 for every 1kg of product weight.
Sea freight may cost you anywhere from $200-$300 for every 1m3 of packaging.
All these will add to the final package costs.
Analyze your selling price and potential total cost of the package to determine whether it will be profitable.
Wholesalers of artificial plants are in different cities and provinces in China.
Certain cities tend to produce more of one product than others do. For instance, the Shandong area tends to focus on plastic artificial flowers.
Guangzhou, on the other hand, mostly produces silk artificial plants and flowers.
Once you have determined the type of artificial plant you need, you can locate your wholesaler by starting your search in a city that predominantly produces your desired artificial plant.
There are several ways to locate your ideal supplier.
The first and easiest way is through the use of B2B trader platforms such as Aliexpress or Alibaba. These are an excellent choice for order sizes valued between $100 -$1000.
Other options include using search engines like Google. Type artificial manufacturers in China and Google will produce a list of potential suppliers.
Alternatively, you can use social media platforms such as Facebook and LinkedIn.
Evaluate the different Suppliers
You will likely have a list of potential suppliers at this point. Choosing the right one is crucial for the success of your business.
Start by evaluating each supplier's business history. The longer a supplier has been in business, the more reliable and stable the supplier. Go for a supplier who has been in business for at least three years.
Consider the supplier's primary customer base. If you want to import artificial plants to the United States, you want a supplier with an established customer base in America. They can offer you the best deals and ensure your package reaches you every time.
Check the supplier's certificates to see if their products can access in your country.
Also, consider the supplier lead time. You want to work with a supplier who can deliver your products on time, every time.
Finally, choose a supplier who offers quality products. Substandard artificial plants will only damage your brand and cause you to lose customers.
Learn the trade Incoterms
There are several trade incoterms or phrases that have a significant impact on the quotation. It is essential to learn the most common of these.
EXW (EX-Works) – the supplier will only deliver goods to the agreed point. From there, it is up to the buyer to handle packaging and shipping.
FOB (Free on Board) – the supplier is responsible for the goods until they reach the loading destination and loaded onto the plane or ship. They will also take care of customs. From here, however, the risk shifts to the buyer.
CIF (Cost Insurance and Freight) – the supplier is responsible for good until loaded on to the ship's board. They will also handle customs and insurance and freight. From here, the risk of shifts to the buyer.
DDP (Delivery Duty Paid) – supplier incurs all costs and fees of delivering the goods until they reach the destination country. From here, the buyer takes over the risk.
DDU (Delivery Duty unpaid) –the supplier will handle all costs of delivering goods to the buyer. However, unlike DDP, the buyer handles import taxes and fees.
All these terms will affect the final cost. It is crucial to understand their meanings before making the purchase.
One of the best ways to vet your supplier and judge the quality of their products is by requesting samples.
A reliable supplier will be more than willing to send you this. After all, products in images may end up looking different in real life.
Be very specific about your samples to ensure it represents the artificial plants you intend to purchase.
This also ensures that the sample is per your requirements.
Provide your supplier with an address of where to send the sample.
Ask your supplier to label the sample as "sample: of no commercial value" on the packaging. This will save you from paying duty during import.
Also, specify to your supplier that you need a working sample. This will help ensure that you get a quality sample. It also communicates to your supplier that you will evaluate for quality.
Once the sample is complete and before sending it to your address, ask for a video call to see the sample. If it looks good, go ahead and order the sample.
Keep in mind that you will pay for the sample.
If it is a factory product, you will normally only pay for shipping. However, if it is a customized product, you will pay for both the sample and the shipping.
Confirm order details with the supplier
Before production can start, it is crucial to confirm all the order details with your supplier.
Confirm the details of the quotation. This includes all the terms and incoterms that surround the order. It ensures both you and your supplier are in total agreement before production begins.
The lead time is essential as it ensures your artificial plants reach you in time and that customers do not have to wait. For most products, it will take between 20-30 days to finish the production. Special orders and products may take as long as 60 days. So it is crucial to understand the lead time.
Lastly, consider the payment method. Most suppliers in China prefer wire transfer. However, your suppliers may also offer multiple other payment options such as PayPal and VISA, allowing you to choose one that is convenient for both you and the supplier.
Perform quality inspection and shipping arrangement
Your supplier should have a low defective rate. Otherwise, your business may suffer and lose customers.
This is why you should perform a quality inspection.
One way to achieve a quality inspection is to purchase through Alibaba and hire their independent quality inspectors.
The second way is to search for a quality inspector in your supplier's location through Google. A 3rd party quality inspector will charge anywhere from $200 and $300 each day.
Finally, you will need to arrange for shipping. You have four options:
International express
Air shipping
Sea shipping
Railway shipping
As a small business shipping smaller packages of artificial plants, we recommend international express or sea shipping as they are affordable and convenient.
International express usually takes seven days to ship from China to America.
Sea shipping will usually take 30 days for the goods to travel from China to America.
Customs Clearance
You will need to show documents during customs clearance. The documents required in the exports customs clearance in china are:
Contract
Commercial Invoice
Packing list
Bill of Lading
Certificate of Origin
Your import customs clearance will also need to see documents, including those listed above.
Find out which other documents your import customs clearance requires to clear your package.
Also, note that you will also need to pay customs duties. You can find out the various tariffs at USIT.
Final Word
Importing artificial plants from china to your country requires careful evaluation. You will also need to follow the series of steps laid for you above to ensure your package reaches you safely and on time.