The only sure way to make sales is stocking variety. The same goes for artificial plants. There are various categories of these fake flowers that you may want to choose from. Here is an overview of the most popular categories.
Artificial Trees
The artificial trees must be realistic, natural-looking, durable, and cost-effective.
Many manufacturers use plastic materials which are more of cheap quality. Plastic can easily be broken, cracked, and can never look realistic. We use polyethylene material, which can withstand even the most challenging weather conditions.
— Popular Trees
Although artificial tree varieties are endless, there are popular ones among them. They include:
Ficus Trees
Bonsai Trees
Bamboo Trees
Flowering Trees
Preserved Trees
Christmas Trees
Outdoor Trees
Outdoor Palm Trees
— Popular Outdoor trees
These artificial trees are manufactured from PE, and the trunk is individually wired to one another. This requires less stripping than other artificial plants, which makes they are easy to assemble. They include:
Areca Palm Trees,
Kentia Palm Trees
Phoenix Palms
Coconut Palms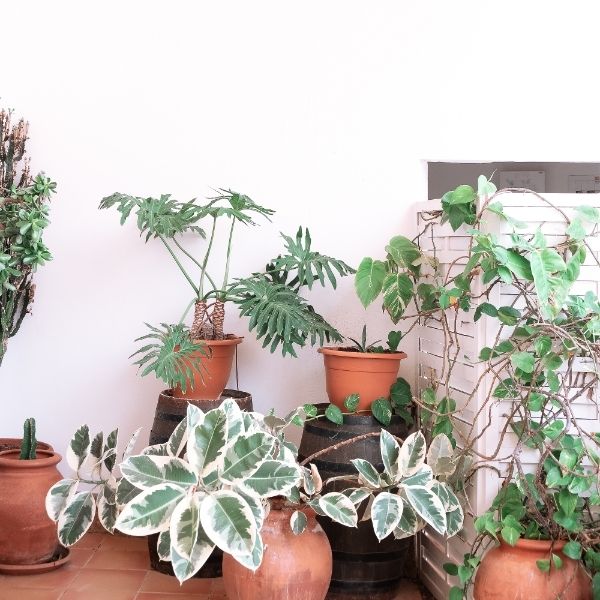 — Silk Tree Inventory
Silk trees include:
Orange Trees
Lemon Trees
Willow Trees
Maple Trees
Ming Aralia Trees
They come in an assortment of multi-colored silk trees, as well as single-colored ones. The silk trees are of the best quality and are excellent trees for interior decoration.
Topiary Trees
It would be best to find topiaries created with utmost precision, which makes them have clean geometric lines that will amaze any onlooker. There are various sizes for both indoor and outdoor use, so your customers can find the best option regardless of whether they want to place the topiaries indoors or outdoors.
— Shape
Topiary designs vary in shape and size. The topiary design can be as small as a few feet tall or as big as a 6-footer with cascading layers. They include:
Ball Topiary
Spiral Topiary
Cone Topiary
Tabletop Topiary
Hedges
— Style
There are different styles and sizes so that there is always an option perfect for any need or preference. They include:
Boxwood Topiary
Cedar Topiary
Cypress Topiary
Preserved Topiary
Rosemary Topiary
Tea Leaf Topiary
Topiary Animals
There are also provide preserved topiary. Preserved topiary is the perfect option for those who want a garden that will never die. Preserved topiary is prepared by freeze-drying and alcohol preservation.
How Do People Distinguish Artificial Plants?
As a retailer, you must provide a wide variety of products. You must know what the client wants before they walk into your shop. Every customer will come in with a different need, so it is vital to have artificial plants of all kinds.
— By Use
As a retailer, you can choose artificial plants to the stock based on their placement. Some artificial plants are perfect for smaller spaces that would not hold a regular plant and areas such as offices and hotel lobbies. They include:
Tabletop Plants
Floor Plans
Hanging Plants
Tropical Plants
Outdoor Plants
— By Type
You need to stock something for everyone, no matter what kind of customer you're serving or how picky. Some that you could consider are:
Cactus Plants
Agave Plants
Succulents
Aloe Plants
Bromeliad Plants
Wreaths