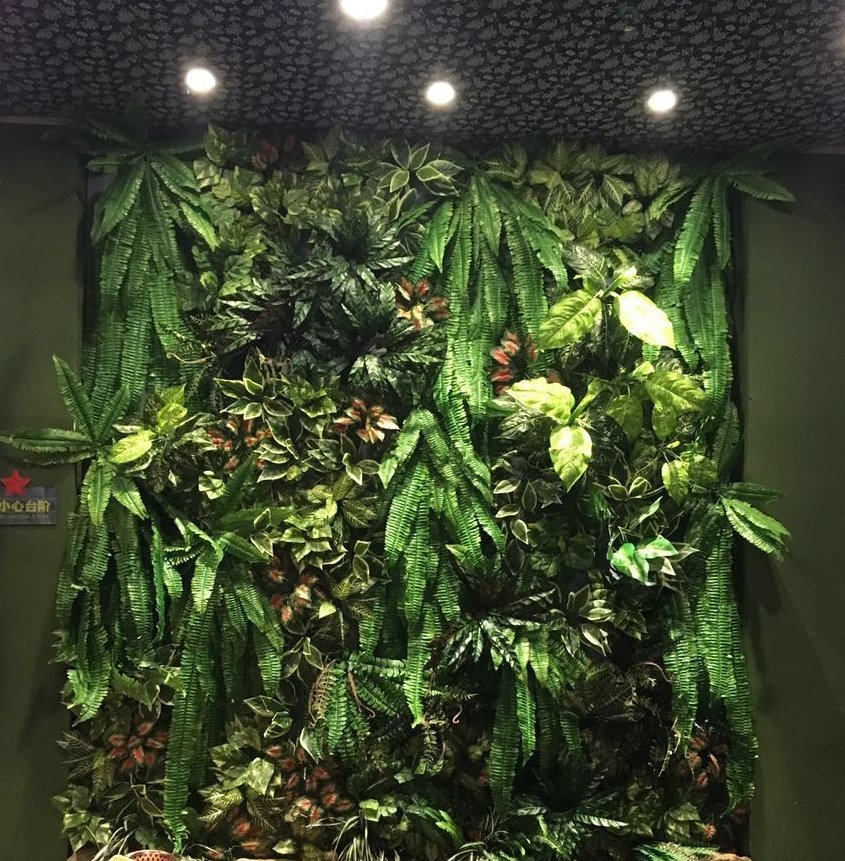 Everything you need to know about your favorite artificial vertical gardens
Have you seen some eye-catching plants hanging across walls? Ever wondered how those plants came to be? Need to know how artificial green walls are cared for? Well, here is a guide to answer some of your questions.
It is no shocking sight of how some plants are made to hang on walls. These modern plants help and aesthetic value to the ambiance of spaces. But it would be best if you knew a lot about them. Yes? Most of those plants are not living; they are faux plants called Artificial Grass Walls.
Artificial green walls are of different styles, colors, shapes, and sizes. This makes choosing the right one for your space pretty easy. Because these wall plants require lower maintenance costs than the real plants, you will find them often used for residential and commercial purposes. This guide will teach you a lot about them. But, hold one a bit;
What is an Artificial Green Wall?
I love to refer to artificial green walls as 'Faux vertical gardens.' All green walls are vertical plant structures interlocked on panels, which applies to the artificial green wall. An artificial green wall is a vertical garden structure or system made by interlocking fake plants on a waterproof board. This panel can then be installed on external or internal walls for decoration.
These green walls have become so popular in recent times, even more than the living green walls. This is because they are easy to maintain, and they will still give you the look of being realistic. So why won't they be trendy when you don't need to spend so much time caring for them? I call them 'lazy plants.'
Just like the real green walls, artificial green walls come in various shapes, colors, and sizes. We need to put them together and hang on your wall. Now, this brings us to the benefits of artificial green walls over the real green walls.
Artificial VS Real Green Walls: Benefits
If you have tacky fingers in taking care of plants (like me!), I suggest you go for the artificial green walls rather than the living greens. Why? Here are the reasons:
a. They are easier to maintain
Artificial green walls are a lot easier to maintain and require less maintenance cost in the long run. You wouldn't need to keep trimming and pruning them for them to look good. They just stay hung on the wall, and they remain the same way you keep them for an extended period. No growth, no death.
b. They are less expensive to install
Unlike the real green walls, which are challenging to move around after installation, artificial green walls can be moved around without damage to the walls they were previously mounted on. It takes less time to install and does not cause dampness or cracks to the walls.
c. They do not need to be watered.
Yes! No watering is required—no need to feed these artificial green walls with water. You just need to dust and wipe them occasionally, so they remain clean and glossy. This makes them a lot more cost-effective than living greens.
d. They do not grow or die
An important reason why I never wanted to raise any plants (even though I love greens) is that I fear the look of them when they wither due to lack of care. But artificial gardens do not die or grow. They do not get infested by pests, weeds don't grow on them, and no fertilizer is required. They just stay the same length and size as you got them. So you wouldn't need to worry about them growing out of the intended space.
e. They do not need sunlight to live.
This is a significant benefit. Living green walls will need to be installed on walls with access to enough sunlight so they can survive. But in the case of the faux counterpart, this is not essential.
Artificial green walls can be installed anywhere, sunlight, or no sunlight. This makes them a better option for versatility as they can fit into any space without being conscious of the sunlight.
f. They don't cause allergic reactions.
Some living green walls can cause allergies. This is why faux ones are used more prevalently in outdoor decoration (public places) as they do have any harmful or toxic effect. So if you plan on installing a green wall in your office or restaurant, you should opt for the artificial ones as the living ones may not be suitable for everybody's health that comes in contact with it. Okay?
Those are the benefits the artificial green walls have over the living green wall. These are also the reasons why they have become trendier in interior decoration today.
What are artificial green walls made of?
Artificial green walls can be made from various materials. And as we climb the ladder of quality of the material used in its fabrication, the quality of the product improves.
Cheap and low-quality artificial green walls can be made from plastic, paper, or even silk (or the combination of the three). Some more inferior products can also be made using metals.
To purchase a good quality artificial green wall, they are usually made of UV tested and Fire retardant synthetic materials (mostly PE). Those made from such materials will not fade or discolor easily.
Also, the installation frames should be made of quality or flexible materials that won't rot or damage the walls they will be installed on. Such materials may be high-end metals or Plastics that can be clipped together and hold the leaves securely.
To get the best type available, don't settle for the cheaper options.
What are the types of artificial green walls?
As I mentioned earlier in this post, artificial wall gardens can come in different colors and styles. They come in panels. Hence, mixing and matching them is possible. So, classifying them into specific types might be a bit ambiguous.
However, I will differentiate them using the locations they can be installed.- Outdoor and Indoor artificial vertical gardens.
Outdoor artificial vertical gardens
The options available for outdoor faux garden walls are countless! You can find the Ivy leaves, hedge, sweet floral, tropical, and jungle ferns. They all come in different shapes and colors, which you can mix and match to achieve a more elegant and sophisticated look.
However, the artificial green walls for outdoor purposes must be tested to the UV resistant and fire retardant. This is a must!
Indoor artificial vertical gardens
The indoor vertical gardens help you add a little sense of greenery into your interior. They also come in different leaves and ferns designs, just like the outdoor verticals. Famous indoor faux green walls include the lavender field and the boxwood leaf mat. They can also be mix-matched to create an entirely new carpet of vertical gardens.
However, based on the replica faux leaves species, there are various types of artificial green walls available for purchase. Some of these include:
Artificial succulents; are very common, and they come in various colors, sizes, and designs. They work best when mix-matched with other leaves species.
Artificial Ivy leaves; these are more natural-looking and are great for outdoor decoration.
Faux Boxwood walls; they come in the form of mats, rolls, sheets attached to the frame panels. They are mostly used as independent walls to improve privacy.
Flowering faux walls; these are the picturesque backdrops you might have come across in weddings and other events. They come in more varying colors and lots of styles also.
Exterior green walls; this is mostly used for commercial purposes rather than in residences.
Moss green walls; they are the textured-looking artificial plants used to add some woodsy outlook to space.
There are also more faux green walls, but the above are the most common to get. So, what do you think? What is not to like about the soothing milieu you can get from these plants?
How to maintain an artificial green wall
Maintaining an artificial green wall is so easy and stress-free compared to that of the living green walls. It is also a low cost to care for. You will need to occasionally clean and dust the leaves and stems. And you will need to do that diligently to ensure that they last longer looking just as fresh as new.
The following are simple steps on how to care for your artificial green wall.
Note: This is for artificial green walls made from plastic or rubber.
What you need to clean plastic plants
A duster (feather or cloth)
A piece of a clean, dry rag
A bucket of warm or lukewarm water
A multipurpose cleaner or cleansing liquid spray
Steps to clean the plastic plant
Step 1: Remove the dust
Just like every other artificial plant, the artificial green walls will collect a lot of dust, especially if the plant is installed in areas with high access to sunlight.
So, firstly remove the dust using the cloth or feather duster by gently brushing off. Be careful not to damage the interlocks.
Step 2: Use the spray cleaner
After dusting with the feather duster, apply some spray cleanser to the leaves and let it sit for a few minutes.
Step 3: Wash the leaves with warm water
After a few minutes, take the cleansing spray of the plant using warm water. Ensure that you don't use excess water, so the plant doesn't get soaked. Just little sprinkles of the water will do.
Step 4: Dry the plant
Use the piece of dry rag to clean the green wall. Wipe off every drop of water. After this, your plant should look as good as new!
Some tips to guide you during the maintenance of an artificial green wall
Clean the plants at least once in two weeks.
Ensure that you are extra careful when cleaning, so you don't ruin the mesh.
If your plant is made of silk, do not use water to wash it. Just follow the same procedure but skip the cleanser and water part.
Conclusion
We all love the green wall, so we would even love the artificial green walls better. For your exterior or interior decoration, these plants will do a great deal of beautification.
So, why not go for it? It's worth the cost. Just remember, the more love you give them, the longer-lasting they will be.