Bamboo – is the epitome of serene beauty and durable construction. Once an icon of calm gardens and sprawling bamboo forests in nations like China and South Korea, it has now evolved into an environmentally friendly material for a spectrum of manufacturing applications, spanning from furniture to apparel.
However, bamboo's vigorous growth is a double-edged sword. If you've ever spotted a bamboo bush, seemingly innocent but thriving robustly, you can bet it's an escapee from someone's garden, planning world domination. So, when you consider introducing bamboo into your indoor or outdoor space, you might want to opt for its faux counterpart or be ready for a pruning challenge.
A plethora of artificial bamboo trees and plants grace the market today, necessitating a meticulous research process to find the perfect match. This comprehensive guide delves into aspects such as size, potting, styling, and important factors to bear in mind when selecting your artificial bamboo tree. We start by examining the various bamboo tree types.
Diversified Varieties of Bamboo Plants:
Caring for plants and trees is an enjoyable pastime for some, but many of us lack the time (or patience!) to water, trim, prune, fertilise, and re-pot an array of plants monthly. Some individuals, allergic to certain plants, prefer to circumvent bouts of sneezing and runny noses triggered by entering a room hosting a plant. Thus, faux plants often become the go-to option for many.
For those fond of bamboo's aesthetic but dread the upkeep of a real bamboo tree, artificial bamboo trees present an ideal solution. Faux bamboo plants typically come in two styles: the familiar pale-stemmed bamboo with abundant leafy green fronds sprouting from the stem, and the green-stemmed bamboo featuring stubbier, thicker leaves growing close to the stem. The dark-stemmed or 'black' bamboo, characterized by an almost black stem and leafy appearance akin to pale-stem bamboo, is another enticing option.
In artificial bamboo, the most significant variation, other than stem color, lies in the stem arrangement. Some are densely packed, replicating naturally growing bamboo types that "clump" together, while others are evenly spaced for decorative appeal.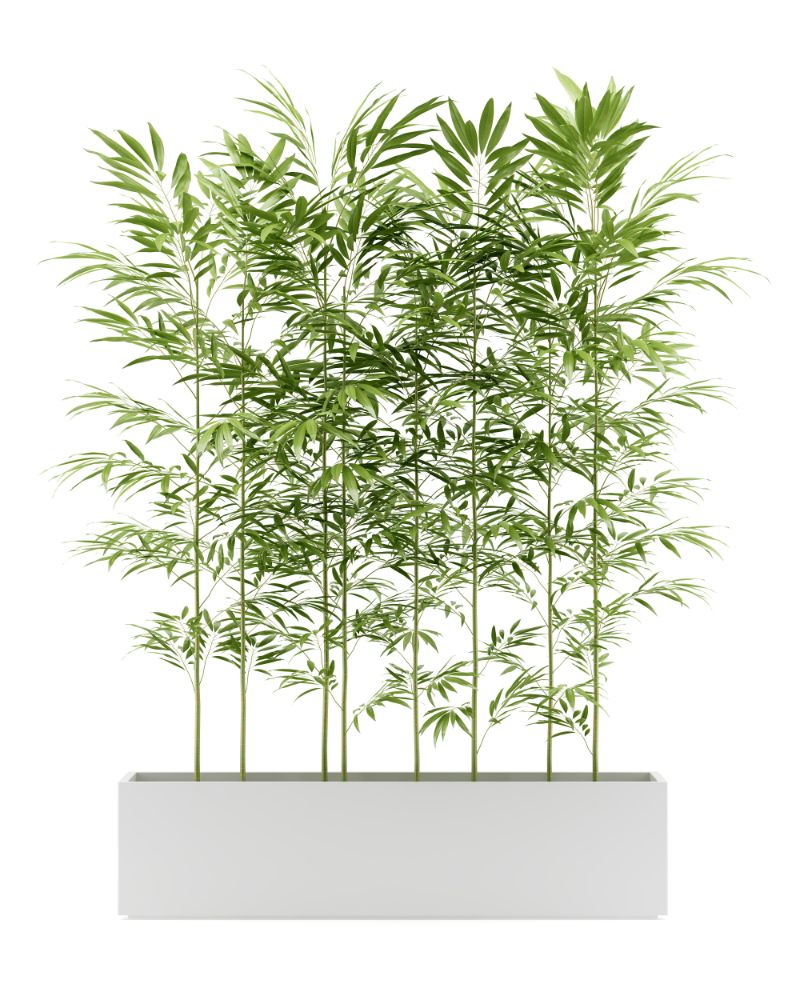 Your choice of bamboo type should hinge on factors like foliage density, placement, and desired height. Center-stemmed artificial bamboo plants work best as houseplants or patio plants, while spaced-out variants can serve as natural screens.
Selecting the Right-Sized Bamboo Plant:
The size of your faux bamboo tree is as pivotal as the type you select, particularly for varieties with thick leaves. Measure the space—indoors or outdoors—you wish to adorn with bamboo. Unlike real bamboo plants that may propagate and spread, artificial bamboo will retain its size, facilitating an exact space measurement to ensure the perfect fit.
The size also depends on the function you envision for the tree. A shorter, wider faux bamboo plant may complement a naturally airy, tropical home ambiance. Alternatively, if you aim for a statement piece, allocate substantial space in a living room or hallway, and go all out! Opt for taller options, but consider the width in confined spaces like entryways or corridors. Rest assured, with the inherent narrowness of bamboo trees, there's always a perfect fit, even in limited spaces.
When measuring, remember to consider width. If you're eyeing a larger bamboo tree, ponder where you want most of the shoots and leaves to cluster. Would your tree be a centerpiece in a communal space or a decorative add-on in a bedroom or home office? For a blending effect, stick to narrower plants to maintain subtlety.
Choosing the Ideal Pot for Your Faux Bamboo Tree:
One of the perks of artificial bamboo trees is the elimination of regular re-potting. This advantage leaves the selection of color, shape, and materials entirely at your discretion. Your bamboo tree can stand out or blend seamlessly with your existing decor.
If your room boasts neutral tones like white, beige, and cream, consider making your bamboo plant a focal point by placing it in a vibrantly colored pot or one featuring a captivating pattern. Conversely, if you prefer a harmonious look, select a pot that matches the dominant color in the room.
Choosing the Right Artificial Bamboo Tree: Your Essential Guide
Looking for the perfect artificial bamboo tree for your space? Let us walk you through the key factors you need to consider and also suggest some creative ways to style your new addition.
Value for Money: When it comes to artificial plants, think of long-term investment. They don't require maintenance costs like water, fertilizers, or repotting, hence, generally, they cost less in the long run. However, be wary of deals that seem too good to be true; they often are. Quality often correlates with cost, so be prepared to invest a little more for a tree that will stand the test of time.
Location: Are you planning to place your artificial bamboo tree indoors or outdoors? If it's the latter, ensure the tree is UV-protected to prevent rapid deterioration from sun exposure. If you're unable to find a UV-protected tree that suits your size requirements, you might need to reconsider your location.
Stem: A real bamboo stem can enhance the natural aesthetic of an artificial bamboo tree. Keep this in mind when shopping for your perfect tree.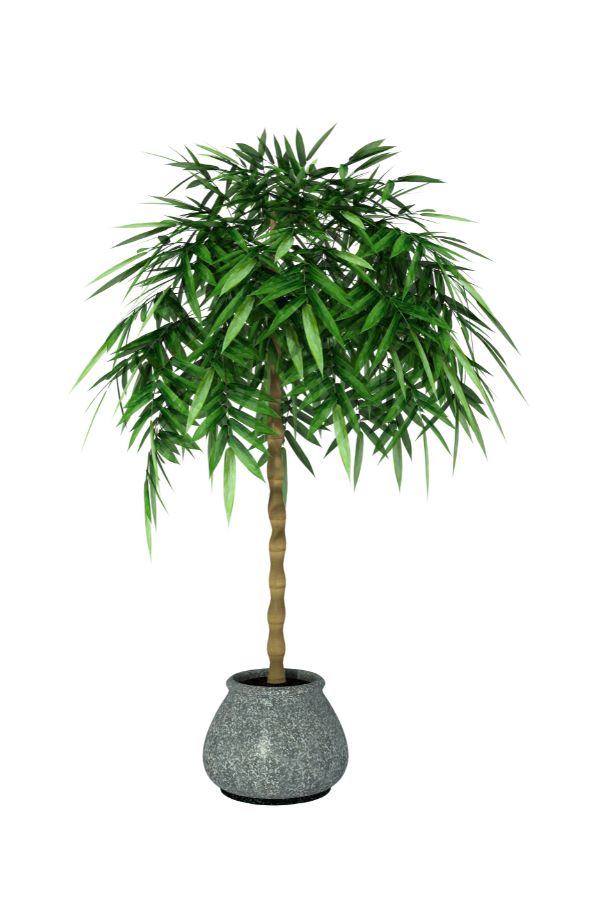 How to style the trees?
Whether you're a first-time buyer or a seasoned interior decorator, styling with artificial bamboo trees can be an enjoyable process. Here are some ways to make the most of your artificial bamboo tree:
Add a refreshing feel to your bathroom with a small bamboo plant.
Create privacy and connect indoor and outdoor spaces with a tree by your kitchen or dining room window.
For a whimsical feel, wrap fairy lights around your bamboo tree.
Introduce a tropical touch to a bedroom or guest room with a large bamboo plant.
Use a medium-sized bamboo plant to bring color and privacy to your garden, patio, or balcony.
If you're short on space, use a plant stand.
For book lovers, place a miniature bamboo plant on a shelf alongside your favorite reads.
Create a summer look by arranging your bamboo plants on either side of your mantel.
During Christmas, decorate your leafy bamboo tree with lights and baubles instead of an artificial fir tree.
Turn your garden into a private Eden by placing bamboo trees around its edges.
Add a twist by incorporating your potted artificial bamboo trees in a water feature.
Where can you find these amazing artificial bamboo trees?
Look no further than FeelReal. We offer a wide range of premium artificial plants and trees that provide a realistic look and feel. We promise excellent quality, affordable prices, and reliable shipping, making us the preferred supplier for many. Browse our full range on our website to find the perfect addition to your home or garden. Whether you're a business owner, an interior designer, or simply someone looking for high-quality, affordable decorations, FeelReal is your one-stop destination for all things artificial plant-related.