Sprucing up your outdoors with artificial trees is more than just a few clicks on an online store. It demands careful planning and consideration to ensure that your outdoor space reflects your aesthetic sense, stands the test of time, and does not burn a hole in your pocket. Outdoor artificial trees can transform your space, but selecting the right ones is crucial to avoid regrets later on. Here are the top seven factors you need to consider when buying outdoor artificial trees.
1. Key Attributes to Look for in Outdoor Artificial Trees:
The biggest mistake people often make when choosing artificial trees is overlooking the importance of UV protection. A UV-protected plant has a special additive that prevents the pigments from fading over time. It's also essential that the product you choose is designed for outdoor use, meaning that it can withstand varying weather conditions.
2. Consider the Location
Before purchasing, have a clear vision of where you're going to place the artificial trees. Whether it's to embellish a path, frame a doorway, or decorate your backyard, pre-determining the location can inform the type and size of the artificial trees you need to buy. A well-planned space can significantly enhance the aesthetic appeal of your exterior design.
3. Size Matters
When it comes to outdoor artificial trees, going big is often the best choice. Tall trees can significantly enhance the visual appeal of your outdoor space, but keep in mind the context. For instance, for doorways or tight spaces, opt for tall-yet-narrow trees like Boxwood and Cypress.
4. The Need for Anchoring and Preparation for Severe Weather
To ensure your artificial trees remain upright during normal wind conditions and storms, proper anchoring is essential. Consider using a weighted base or filling the pot with heavy materials like sand or pebbles. Moreover, for severe weather conditions, consider bringing your artificial plants indoors if possible. This precaution will ensure the longevity of your outdoor artificial trees.
5. Choosing the Ideal Container
All outdoor artificial trees come with a built-in fixed plastic pot, but they're often not the final container. Make sure to select a larger, more aesthetically pleasing pot that complements your outdoor decor. Remember, the container must have drainage to prevent the formation of mould or algae due to water accumulation.
6. Price and Quality
Quality and durability are the hallmarks of a good outdoor artificial tree. While cheaper options might seem tempting, investing in a high-quality product will ensure that your trees maintain their aesthetic appeal for years. As the saying goes, you often get what you pay for.
7. You can Choose Different Types of Outdoor Trees
The stage is set for your outdoor artificial trees, and the next step is to navigate the world of options to find the perfect fit for your space. Below, we delve into the range of popular choices available.
Boxwood: Boxwood tops the list when it comes to popularity. It's renowned for its small, densely packed foliage that lends itself well to topiary trees. Your outdoor artificial boxwood trees can take a variety of shapes, including cones, single balls, spirals, and triple balls. More elaborate topiary designs exist but are usually confined to smaller bushes.
Cypress: Another evergreen variety, Cypress, presents a softer, more bushy aesthetic than Boxwood trees. Cypress outdoor artificial trees typically lean towards longer shapes over balls, hence, you'll frequently find them as spirals, cones, and similar forms.
Bay: Predominantly fashioned as single ball style trees, Bay trees offer a delightful option in the realm of outdoor artificial trees. Though, their versatility allows for other shapes as well.
Conifer: If you yearn for the realistic touch of evergreen plants, then Conifer is an excellent choice. However, be mindful of selecting a bushier variant to avoid its resemblance with a traditional Christmas tree.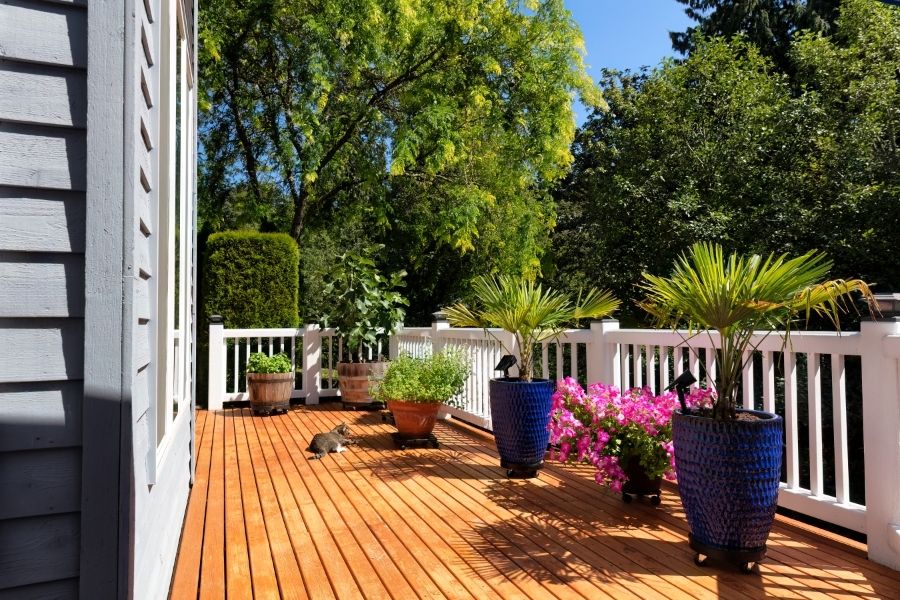 Palm: Yearning for a tropical vibe? Outdoor-friendly versions of Palm trees can effortlessly transport your garden to a lush tropical paradise.
Bamboo: Last but not least, Bamboo plants offer a distinctive look, perfect for creating partitions in your garden or as a shield against prying neighbours. However, make sure to verify that your chosen Bamboo plant is suited for outdoor use, as not all variants are.
FAQs;
Why should outdoor artificial trees have UV protection?
UV protection prevents the pigments in the artificial trees from fading, thereby maintaining their vibrant look for a longer time.
What materials are suitable for outdoor artificial trees?
Materials that can withstand varying weather conditions are suitable for outdoor artificial trees. Silk, although popular for indoor artificial plants, is not suitable for outdoor use.
What is the importance of selecting the right container for outdoor artificial trees?
The right container not only adds to the aesthetic appeal but also ensures proper drainage, thereby preventing water stagnation.
Why is size important when choosing outdoor artificial trees?
The size of the trees should be in proportion to your outdoor space. Too small or too large trees can disrupt the visual harmony of your space.
How can outdoor artificial trees be secured during extreme weather conditions?
Outdoor artificial trees should be anchored properly to withstand normal winds. During severe storms, it might be necessary to move the trees indoors, if possible.
By considering these factors, you can transform your outdoor spaces with beautiful artificial trees that not only look good but also last long. The perfect blend of style, durability, and convenience can turn your outdoor area into a stunning oasis that's easy to maintain.