Indoor plants can be a great addition to any office space, providing a mood boost and improving productivity. However, the question of whether to use real or artificial plants can be a dilemma. Artificial plants offer an easy solution for those lacking a green thumb.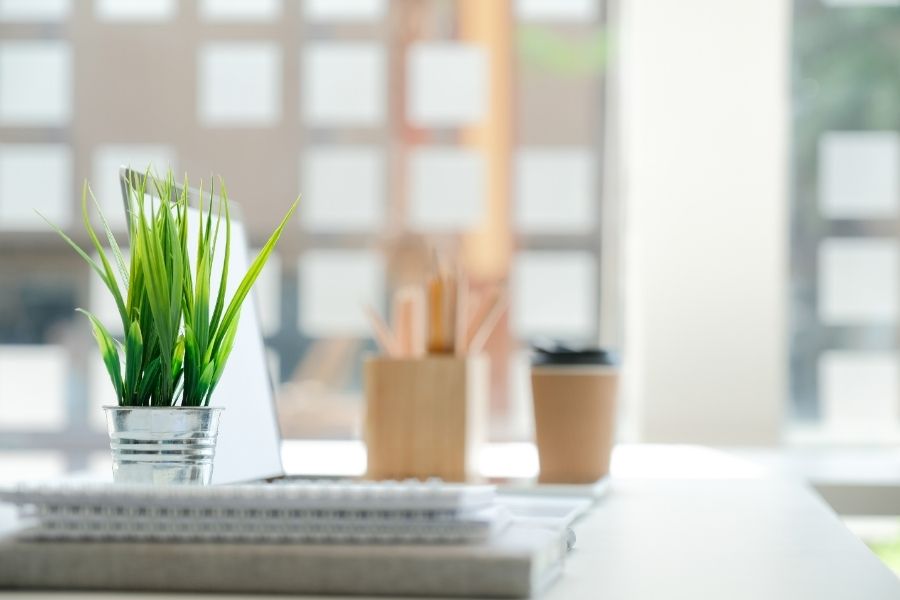 10 Must-have Artificial Indoor Plants for Office Desks:
Artificial plants require no maintenance or watering and can thrive in even the darkest corners of an office. Here are some of the best artificial indoor plants for office desks:
1. SILK FLOWERING PLANTS
The Azalea silk flowering plants are available in various shades of pink, pink-white, and white. They come in a potted base container, making them ideal for adorning your office desk. If you're looking to enhance your reception area, consider the Azalea bonsai flowers in plastic pots.
These charming and delightful plants are available in an array of shapes and sizes, perfect for display in hospitality spaces, commercial settings, or exhibitions. Their lifelike appearance adds a vibrant burst of color to any surroundings.
2. ARTIFICIAL HIBISCUS PLANT
Looking for an ideal decoration to spruce up your office desk? Look no further than the artificial hibiscus plant. These plastic flowering plants are so realistic that they appear just like the real thing, with a choice of four bright colors: hot pink, red, tangerine, and yellow.
With their striking and polished appearance, they can add a touch of elegance and beauty to any office space. These stylish plants come in colorful pots and create a welcoming atmosphere.
3. JASMINE PLANT
Looking for a perfect decoration for your large reception table in the corner of your office? Look no further than our artificial jasmine foliage plant, available in two stunning color varieties: salmon and white. This plant features shiny, oval-shaped leaves and beautiful clusters of incredibly lifelike flowers.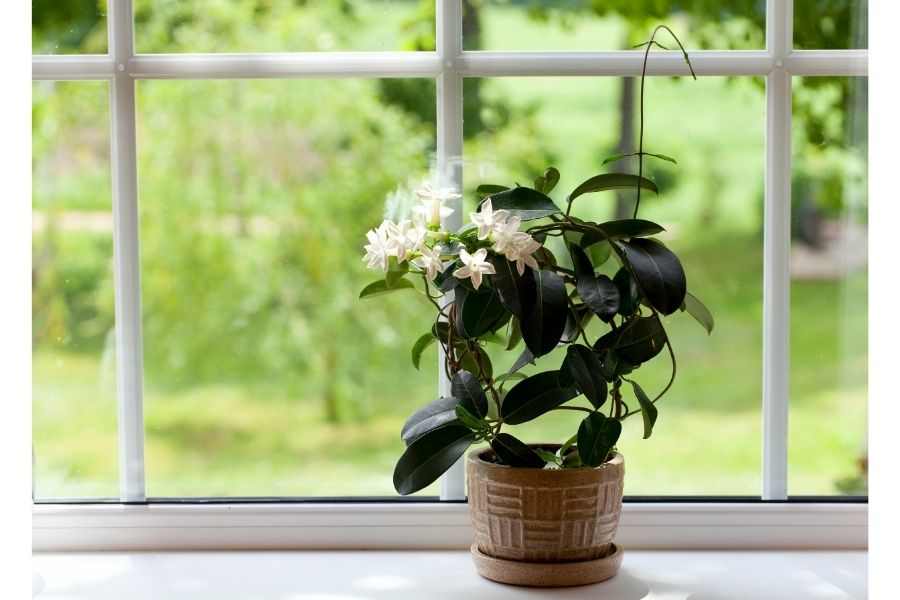 Crafted from high-quality polyester, this artificial plant can withstand any weather conditions and can even be placed next to a window. The attention to detail is so impressive that you may even mistake it for a natural plant. You can add a touch of charm and beauty to your office with stunning artificial jasmine plants.
4. BAMBOO PLANTS
If you are searching for stylish and authentic decor for your office desk, oriental bamboo plants in plastic pots are a great choice. These plants are ideal for spacious desks and can also be customized to fit your preference.
The natural wood trunk is handcrafted to perfection, giving it a realistic and genuine appearance. The sleek green leaves are delicately thin, adding a touch of freshness to your workspace. One of the best things about bamboo plants is that they maintain their natural finish and beauty all year round.
5. FIDDLE LEAF FIG TREES
The artificial fiddle leaf fig trees feature shiny green leaves that appear authentic and enhance the beauty of any environment, including office space. These tall trees can be placed next to an office desk to create a stunning display.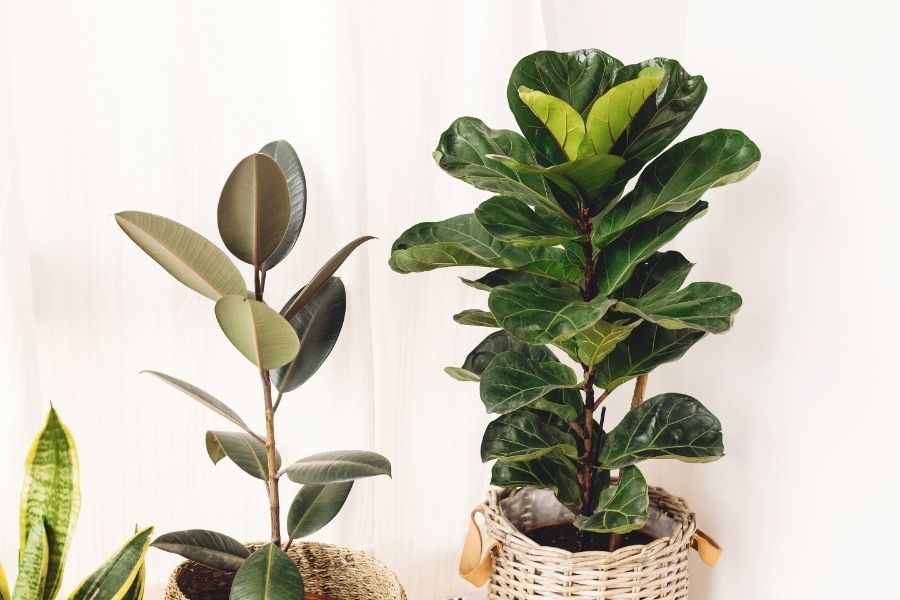 Their dense and lustrous leaves do not require frequent dusting, making them an ideal low-maintenance option for those with a busy schedule. Whether you choose to keep them near the entrance, window, or desk, they will elevate the overall look of your workspace.
6. PENCIL CACTUS
If you find flowering plants uninteresting and outdated, you may opt for the latest lifelike artificial plants available in the market. The Pencil Cactus plant is a perfect addition to your office desk, bringing innovation and creativity.
This plant has green branches resembling pencils and comes in a decorative pot. It has a sleek and slender design, making it a great fit for small office desks. It can also add authenticity to your commercial space, such as a boutique.
7. COASTAL LIVE OAK BUSH
Looking to bring the coastal ambiance to your workspace? Consider the latest artificial Coastal Live Oak Bush plant for your office decor. Crafted from authentic wooden stems, it comes in a lively green and a warm fall hue.
These plants can be customized as per your preferences, ranging from a height of 20 inches to 6 feet. Whether you opt for lush green foliage or autumnal tones, they will perfectly blend in with the surrounding landscape, providing a refreshing burst of color and uplifting your senses. Give your workspace a touch of nature's beauty with these exquisite plants.
8. CHERRY BLOSSOM BONSAI SILK TREE
The Silk Cherry Blossom Bonsai tree is a delightful addition to any office table, standing at a petite 15 inches in height. Its beautiful light pink pastel colors make it an attractive sight that effortlessly brightens your mood.
The tree comes with a decorative pot that requires no maintenance, adding to its charm. Not only does it add a pop of color to your workspace, but it also brings a sense of calmness and tranquility. Just picture the impression it will leave on your clients when they catch a glimpse of its delicate pink petals.
9. ARTIFICIAL SUCCULENTS
Artificial succulent plants boast distinctive and non-traditional designs. They make an excellent selection for a designer store, featuring striking patterns and stunning colors. These plants are an ideal choice for a creative and imaginative desktop display. Additionally, they can be used to create a desert ambiance in your office.
10. BOXWOOD HEDGES
Boxwood hedges made of synthetic materials, such as artificial topiaries or imitation boxwood panels, provide a flexible way to define and organize your workspace. They offer a subtle yet pleasant ambiance and can suit a variety of settings, from corporate offices and retail stores to healthcare facilities and entertainment venues.
Due to their delicate and unobtrusive appearance, they are particularly suitable for places where a calm and relaxing atmosphere is needed, such as senior living spaces and hospitals. The polyester foliage is luxuriant and verdant, providing a natural and soothing visual effect.
Plants can significantly enhance energy levels and productivity, while employees may feel agitated or bored under high work pressure in the office. Adding a touch of nature not only improves visual appeal but also helps to overcome psychological barriers.
Although real plants look refreshing and attractive, they can be challenging to maintain in today's fast-paced lifestyle. Artificial plants, on the other hand, can liven up your environment, endure harsh UV rays, dust, and grime, and require minimal maintenance. They are cost-effective and can closely resemble the appearance of natural plants.